« The return of E.F. Elliott electric mandolins | Main | $5 pick shirt--Last Call! »

July 21, 2010 | Mike Marshall, Choro Famoso "Na Pre 3"
It's always great to check in with our friend, mandolin extraordinaire Mike Marshall. One of our favorite YouTube vids is in his Brazilian incarnation as Choro Famoso performing Luis Americano's "Na Pre 3" live at Wheeler Theater in Port Townsend WA, on April 25th 2010. The ensemble features Mike (mandolin), Andy Connell (clarinet), Colin Walker (7 string guitar) and Brian Rice (percussion), and the videography is of unusually good quality.
We've had the pleasure of spending time with Mike and his infectious personality. His enthusiasm for the mandolin and its potential is contagious, and there are few musicians on the planet that are any better at it than him. His educational materials are a must read, his mulit-genre recordings are a laboratory unto themselves, but the best thing is to catch him live and in person. You'll never see the mandolin in the same way again.
Enjoy video: Choro Famoso - Luis Americano Na Pre 3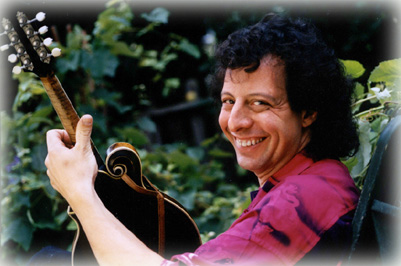 Posted by Ted at July 21, 2010 6:18 AM