MIKE MARSHALL'S MANDOLIN METHOD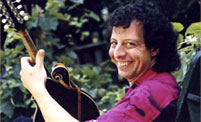 - THE GREAT BOOK OF FINGER BUSTERS
- THE CHORD BOOK
- IMPROVISATIONAL CONCEPTS
- SONATAS AND PARTITAS FOR UNACCOMPANIED VIOLIN BY J.S. BACH
- BRAZILIAN CHOROS
Mike Marshall has always been a personal hero. Master of so many genres and tremendously prolific in his 2-1/2 decade discography, his virtue is his own vice—try to go into a record store and find him classified, and without the assistance of the best search engine, you may well walk out empty-handed. Mandolin, violin, guitar, mandocello, from Bluegrass to Classical to Jazz, you can not pigeon hole him to one category. (What's worse is he's an absolute accomplished genius at them all!)
We've had the privilege of seeing him not only live on stage, but at informal jams. (The energy that surrounds this man, that aura of unconquerable proficiency is even more breathtaking in person.) There is always something going on with him. Whether uncovering Brazilian Choros with his Brazilian friends, studying wild Balkan meters with his (professional violinist) wife, Kaila Flexer, touring with longtime friends Darol Anger & Chris Thile, he could be generating a 110% performance while the next project is already simultaneously rolling around in his head.
That he would take the time to document some of his tips and tricks is a great fortune opened and distributed to the mandolin world. Recently released are five volumes of materials, each a well-traveled path, diverse, yet complete enough to stand on their own. (Much like the musics of the man himself…)
Ask which one to purchase first, it's hard for us to choke back "ALL of them." That said, we've attempted some descriptions for you to diagnose your own priority. Be comforted though, you can buy any of these and not make a wrong decision. Each will affect your playing in a profound way. If you are devoted to perfecting your mandolin craft, each are well worth the investment.

Finger Busters
We have long advocated the profound relevance of finger building exercises. A daily regimen is a crucial element in building strength, control, and coordination. Sure, many veteran mandolinists will shrug "Aw, just play…" for developing playing skills, but nobody told Lance Armstrong "Just go ride your bike," so he could command multiple Tour de France crowns. Intense, calculated, disciplined, and systematic physical training was tantamount to his success, as it need be for you to achieve higher aspirations of playing ability.
Marshall starts off this book with the Right Hand, picking coordination on combinations of open strings: Pairs, Pivots, Skips, 12 pages of pick control drills. From there, he adds focus to the other hand, working with Left Finger "Pivots," getting sequentially more complex and venturing around, still within 1st position. He later adds intervals and challenging chromatic finger combinations, eventually crossing strings, climaxing in his most delicious challenge of the book (and legendary to those fortunate to have attended his clinics), the "Fourth Finger Crawl."
Note, unlike the FFcP closed positions on our JazzMando site, the emphasis here is not music, but muscle. The intent is finger facility, not interval recognition. (Thus, the title of the book…) Still, this could potentially open he ear to some very interesting tricks of the fretboard, some enchanting interval relationships.

The Chord Book
Your average chord book is generally an encyclopedia of finger positions, organized by key or sorted by chord qualities (major, minor, dom7, etc.). Marshall starts off introducing a basic understanding of what a chord is. Stepping back and trying to apply what the music theorist takes for granted and adopting it to the mandolin, he introduces concepts of voicings, positions, and inversions. This is all very basic stuff, but crucial in taking chord creation and understanding to a higher level.
He launches in familiar Bluegrass terrain, C, G, D, then branches out into some extensions, adding choice application, including arpeggios, and some ear-pleasing pedal tone exercises. This transitions into an effort to subliminally introduce smooth chord voicing through some very well-contrived patterns. (No jumping frets to express chords!)
A quick foray into the Blues, he also explores accompaniment rhythm "chops" (yes, you CAN do this on beats other than 2 and 4..). Speaking of Rhythm, he takes the second most popular chord changes (behind 12 Bar Blues) and presents a scrumptious variety of alternate changes to "I've Got Rhythm. This is something very jazzer needs to be prolific with in rapid fire.
The juiciest section of the book is his diatonic chord patterns, or "Chord Scales." Facility in chording up and down patterns or diatonic scale degrees is an outstanding way to freshen long single chord passages. (We were hoping to write a book on this, too, but he's already beat us to it!)
He applies this strategy to multiple keys, which broadens the comping palette considerably. A rendition of "Cherokee" gives the player a chance to apply this.
As mentioned, this is not just a chord book. It's a chord "Relationship" book. Through the disciplined drilling of these patterns, you adopt a sense of context and function, which ultimately helps you to retain the fingerings better.

Improvisational Concepts
Marshall's opening statement "Four Fingers, four ways to play everything!" caused us to suck in our breath…
This concept is the entire basis of our own FFcP method. The approach to movable patterns up, down, and across the fretboard is the cornerstone to comfort and facility in all 12 keys. (And in jazz, you'll use all 12!) Reinforcing this effectiveness, he explains in seven pages the liberation in temporarily abandoning the open string and how flexible this system can be.
He goes on to introduce triad positions through exercises incorporating diatonic patterns. Between this and the "Four Finger" approach, the astute mandolinist starts to develop an almost subconscious and tactile understanding of scale degree relationships, ultimately feeding vast amunition to the improviser's creative arsenal.
A quick exposure to position "shifting" by moving the patterns upstairs (even playing the one-octave scale on a single string), the player should begin to understand how convenient and comfortable it is to move away from not only 1st position but foreign keys.
Some new "vocabularies" like Chromatic Minor Arpeggios, Whole Tone Patterns, and Chromatic Scale Fingerings take the skill of improvising to a new dimension. Later added is our personal favorite, the Altered Scale, but first we have to pick up some tasty "Charlie Parker Riffs."
A final stab at Turnarounds gives the jazz musician months of helpful material to develop and master.

Sonatas and Partitas for Unaccompanied Violin by J.S. Bach
Coming from a classically trained background, JazzMando staff has long sought appropriate material for mandolin, and have often had to look no farther for good literature than from that of our four-stringed brethren, the violin.
Tuned identically to the mandolin (without the double course duplication), music written for the violin suits our fingers very well, especially the "harmonically complete" music of J.S. Bach, arguably, the greatest composer of Western European music. (Ever…)
The brilliance of this master composer transcends centuries of subsequent literatures, and it's rare that any currently breathing musician would not pay homage to this genius.
Particularly appropriate to the jazz musician, it's Bach's seamless flow of cadencing, the spinning of harmonic yarn that has stood the test of time. His pre-Classical period Baroque 'ii V7 I' sensibilities combined with the zest of African rhythms became the cornerstone of jazz innovators in the 20th century.
What is so captivating about the music of J.S. Bach, implied within his lyrical sensibility is a readily accessed harmonic strategy. Within the linear (melodic), the horizontal (chord) characteristics of his music, is unraveled in a very tight, logical and transparent harmonic structure.
Because this harmonic sensibility is so aurally clear, it behooves every jazzer to take the opportunity to understand this great literature. Aside from the appealing tactile "gymnastics" of the music, this is fun stuff to play, and if you are so inclined, to swing! Marshall has taken the effort to not only master it himself, but bless us with TAB and traditional notation, that we might attempt to cover it as well.

Brazilian Choros
The ever rising popular awareness of Brazilian Choro in the United States has been relatively recent. In the past decade, the brilliant works of Jacob do Bandolim and his Brazilian contemporaries have hit many "inside" American jazz circles and distributed this side of the equator spirited by the efforts of David Grisman and his Acoustic Disc label. Recently, it has become quite fashionable for many touring professional artists to slip offstage for recreational jamming to collections of Choro "Standards," as these tunes are lyrically memorable. Additionally, their harmonic structures are rich and easily adapted to clever alternate chord changes.
Though "jazzy" in their lush extensions of b9, +5, and #11, their Rondo-like form yields a simplistic Ragtime symmetry. This is not coincidental in that both Choro and Ragtime with their roots in both European classical and the indigent syncopated rhythms of two continents developed in parallel in the early 20th Century.
History aside, this is a tremendously fun genre. The "Brazil Duets" CD Marshall recorded nearly a decade ago (recently re-released) continues to be a JazzMando staff favorite. These simple songs plow a fertile ground for improvisational magic. Although early Choro was rarely improvised, the latest generations of Choro specialists have added zesty harmonic vocabulary, and prolific improvisation as well; look no farther than the works of the brilliant mandolinist and Brazilian native, Hamilton de Holanda. Marshall's follow-up CD "Choro Formosa" as well as the Jacob pyrotechnical "Voo Da Mosca" from his "Jam" CD have accumulated into a rich repertoire of Choro favorites. What a pleasant surprise to have these (and more) available in this collection of 40+ songs.
The jazzer can gain tremendous insight into syncopation, catch riffs, and explore a well-stocked laboratory of Turnaround and 'ii V7 I' changes, simply by spending a little time analyzing the chords. These are also great sight reading challenges, especially since Marshall breaks down common Brazilian rhythms and unlocks the rudimentary nature of the music.
Time invested in these songs is a huge investment on many levels and an introduction to some of the world's best music.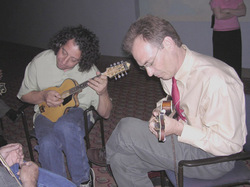 Pictured above, Mike Marshall & Scott Tichenor at Mandofest 2004