« Facebook and FFcP | Main | The return of E.F. Elliott electric mandolins »

July 17, 2010 | Mandolin Review; Brian Lock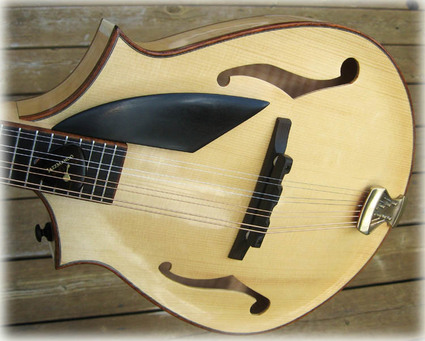 We were pretty impressed with the work of our most recent instrument review from New Mexico builder Brian Lock. It shouldn't be too much surprise that his craft includes the edgy visual aesthetics of a Monteleone, the spartan structural sensibilities of a Gilchrist, and the liquid tonal sweetness of a Nugget, as he has studied under tutelage of all three world-class builders. This was an enjoyable instrument to get to know, and you can read more about our lab examination of this delectable Two-point from one of the southwestern US's biggest self-professed wood junkies.
Definitely a builder to keep your eye on.
Read Review: Brian Lock Two-point Mandolin
Check out our previous builder reviews.
Posted by Ted at July 17, 2010 5:45 AM