« Taking Giant Steps; Improv secrets! | Main | More Reverse FFcP! Free Arpeggios PDF. »

May 8, 2014 | New FFcP... In reverse!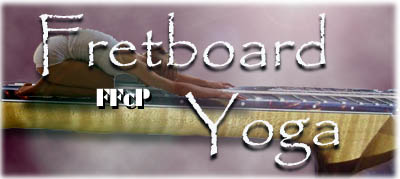 What goes up must come down.
We all learn scales from the note they are based on, the tonic. We lay them out in order, play them from bottom to top, and go about the discipline of driving them into our playing. Over and over, up and down, and almost always, bottom to top.
This is fine for learning them, but if we want to incorporate them into our soloing, we run the risk of making our improvisation sound like were just playing scales. In our FFcP system, we've already broken them up, using 3rds, 4ths, arpeggios, but there remains a weakness in always starting from the bottom. We need to free ourselves from always depending on starting from the tonic, and our latest installation of FFcP addresses this.
Introducing: Reverse FFcP!
We've taken the very first, the foundational major FFcP exercise and started from the top note of the scale. It sounds simplistic, but you probably struggle the first few times out of the gate trying it on your own so we've actually written it out in a 4 page PDF.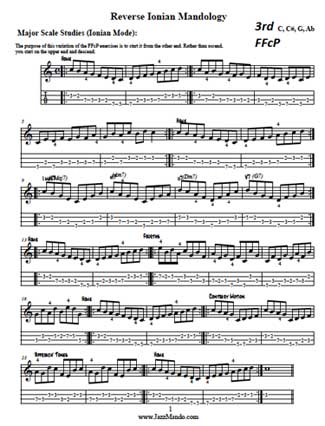 Download PDF
You're welcome.
We're not done. We intend to introduce more like this so feel free to give us feedback on what you think would be great to try for some melodic variety. Our next one will probably reverse arpeggios in all 12 keys.
Stay tuned...
Further
FFcP Introduction
Moving up the Fingerboard
Advanced FFcP
Pentatonic FFcP
Dorian/Minor FFcP
Augmented 11th FFcP
Posted by Ted at May 8, 2014 8:23 PM