« Mandolin. Jazz vs. Bluegrass | Main | Austin City Limits - Grisman, Marshall, Burns, Moore, Gimble »

December 15, 2012 | Blueburst Sorensen Sprite JM mandolin
Steve Sorensen
Blueburst Sprite JM mandolin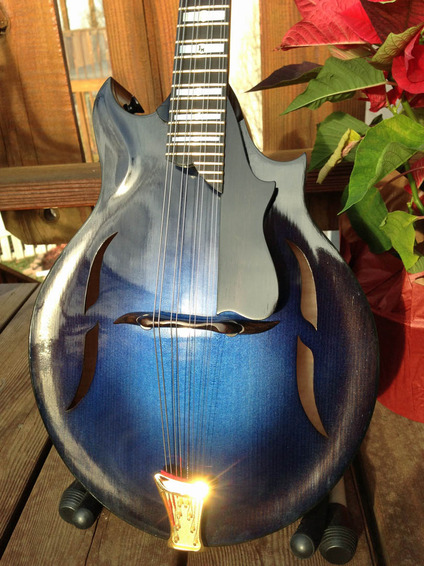 Call it a blue, blue Christmas, but only in the most positive sense. On our doorstep this week, a unique custom build, an asymmetrical 2-point Sorensen "Sprite JM" mandolin with the same basic dimensions of the instrument we reviewed last April and some cosmetic personal touches, including a dynamic Blueburst finish and ornate fretboard inlay. In the initial dialogue on the project, we requested the same basic dimensions, but other than the blue finish, Steve was invited to inject his own additional personal aesthetic on the adornments.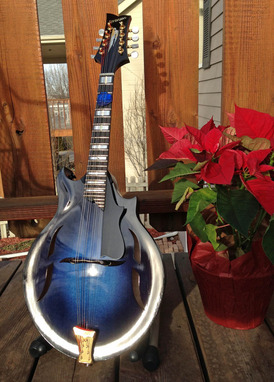 We were not disappointed! Many custom builds have come through this site, and we always anticpate a few weeks of settling with wood and steel. It's a good idea for a customer of a new instrument to allow for these changes, but this one came very much ready to play. Surprisingly, it's already in immediate performance stage rotation.
Sustain is exceptionally strong, action smooth (optimal low) and comfortable, easy to move around, and there's considerable power and clarity in the upper frets, warmth in the lower register. Effectively balanced string to string and across the fingerboard, but having been so impressed with experience with last spring's Sprite, we would have expected nothing less.
His basic Sprite models start at $5650, ours was naturally naturally higher with the custom features such as fretboard inlay and K&K pickup. It's an exceptional "bang for buck," worthy of consideration of an elite group of high profile world class builders.
Instrument Specifications
Top - Book matched Red "Adirondack" Spruce.
Finish: Blueburst, a combination of hand-rubbed base and airbrush.
Tone Bars - vertical grain Red Spruce.
Back and Sides - Maple - (one piece back)
Neck - Scale length - 13 7/8". Curly Maple. 12" radius fingerboard with Jescar Silver 0.43 frets. 1 1/8" nut width and a "V" profile inspired by a pre-Loar F4. Double carbon fiber truss rod. Deco D'Angelico style block fingerboard inlay, JM logo at 12th fret
Tuners - Schaller gold A-style 16:1 gears
Bridge - Sorensen Desert Ironwood "Killer Bridge".
Tailpiece - Custom James tailpiece with "Sorensen" logo.
Finish - TruOil base followed by ultra-blond shellac French Polish.
Headstock inlay: AeroDeco Sprite in gold and white Mother of Pearl
Pickup: K&K Twin
Binding: Black-White-Black sidebound
Sound holes: "Double Slash" cut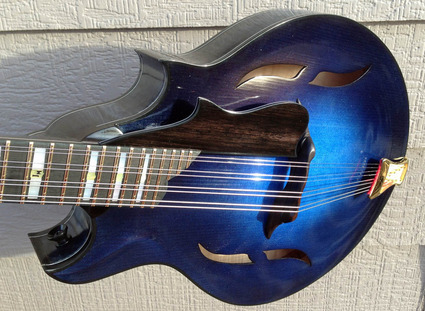 Builder's Website: Sorensen Strings
Review: Sorensen "Sprite" Asymmetrical 2-point mandolin
Contact: steve@sorensenstrings.com
Phone: 661-345-6684
More pictures (click all for close-up):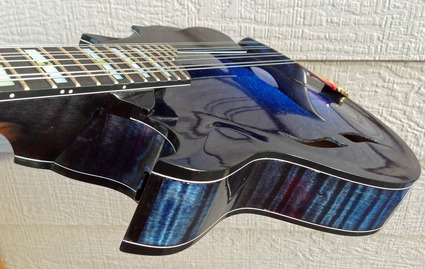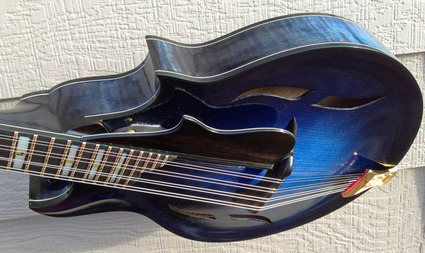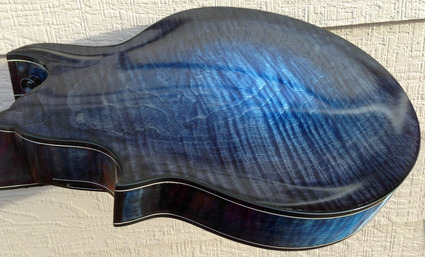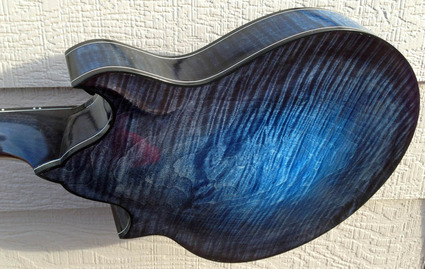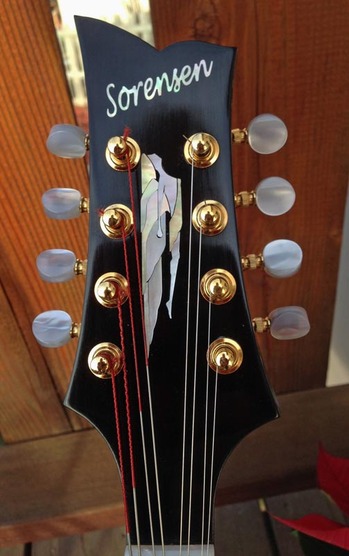 On our Facebook Page? "Like" if you haven't already

.
Posted by Ted at December 15, 2012 5:15 AM