« Getting Into Jazz Mandolin. Success! | Main | Brian Oberlin; Solo Swing Christmas »

December 9, 2012 | Planet Waves PW-CT-05 Practice Workstation
If you're looking for great "all around" Christmas gift for any musician-in-progress, might we suggest the Planet Waves PW-CT-05 Practice Workstation, the ultimate all-in one musicians practice tool.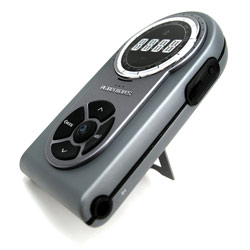 PW-CT-05: $24.99
An intuitive, patent-pending rotary LED interface is combined with a precision dual-mode sweep/strobe chromatic tuner and professional multi-function metronome. The double wallet-sized lightweight, durable metal enclosure includes a pull-out easel for desktop use. These are on a limited clearance pricing of only $24.99 which is a huge deal, as manufacturer list price was $119.95 when they were first introduced.
Even if you were to buy just a metronome, the loud audible click (adjustable volume), tap function, and multiple subdivision option are features you'd find in a unit twice this price. Throw in a tuner with immediate response and visual clarity, PLUS strobe tuning, you're really getting a bargain.
You won't want to wait. Not only is Christmas just around the corner, these won't last long at this price. Click on the link to get to the shopping cart, and load "JazzMando Free Shipping" in the comments and you'll get a credit for free US domestic shipping and handling. At this price, you could buy several for family and friends!
Purchase: Planet Waves PW-CT-05 Practice Workstation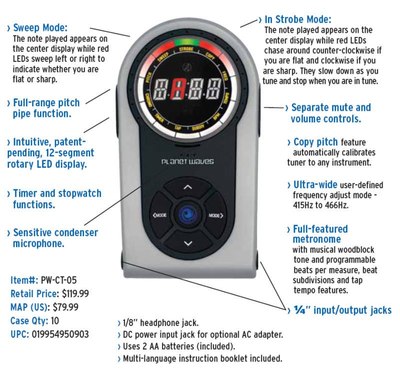 Features:
*Intuitive patent pending 12-segment rotary LED display
*Sweep and Strobe Mode Tuning
*Full-featured Metronome
*Full-range pitch pipe function
*Sensitive condenser mic
*1/8 headphone jack
*DC power input jack for optional AC adapter
*Seperate mute and volume controls
Posted by Ted at December 9, 2012 6:43 AM