« The Joe Craven Trio; All Four One | Main | Advanced Pentatonic »

May 11, 2012 | AirTurn BT-105 Wireless Page Turner for iPad
We've fully embraced the iPad as a performance tool for set lists and song charts. We've enjoyed and had success using such apps as the UnrealBook, Planning Center Online (Music Stand), and PDF Reader Pro on stage, and for practicing jazz tunes with accompaniment for sheer indulgence, the world's leading real book app, iReal B.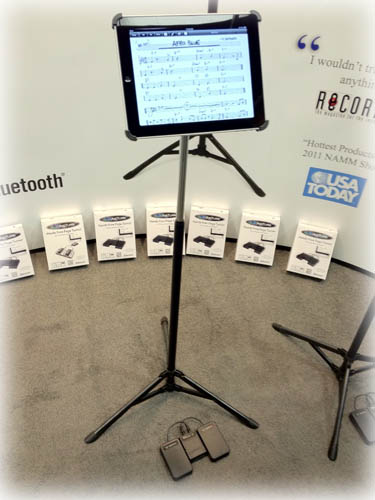 Recently, we acquired the new AirTurn Bluetooth page turner for hands free reading we first spotted at this year's winter NAMM show, and couldn't be happier. Scrolling back and forth for practice is as easy as the tap of a foot. The pedal is extremely quiet and communicates with the iPad (and other tablets or computers) through bluetooth technology. No fuss installing, we were up and running seconds out of the box after charging the unit.
Pricing seemed a little steep with it's $129.95 suggested retail, but you can probably do a little better than that (see link below). It comes with a USB connection for juicing up its rechargeable battery, and features no-slip traction to keep it from sliding around on a smooth floor or stage. We recommend the BT-105PK package with dual footswitches in order to move both forward and backwards.
From the website:
The AirTurn BT-105 is a wireless Bluetooth page turner that is operated by two ATFS-2 silent pedals for forwards and backwards page turns. Works with most document and presentation programs for Mac and PC, as well as a growing number of apps for the iPadand Android tablets.
The AirTurn BT-105 page turner and ATFS-2 pedals are proudly made in the U.S.A.
This AirTurn dual foot switch kit comes with the AirTurn BT-105 Bluetooth page turning transmitter, 2 ATFS-2 black silent foot switches that connect to the BT-105, the AirTurn non-slip pedal board, and a USB recharging cable. Fully assembled. The BT-105 Transceiver may be easily removed for use in other applications.

View Demo: The AirTurn BT-105

Purchase link: AirTurn BT-105PK
Posted by Ted at May 11, 2012 5:14 AM