« Remembering John McGann | Main | Planet Waves NS Mini Tuner special, $10.95! »

April 9, 2012 | The Acoustic Music Company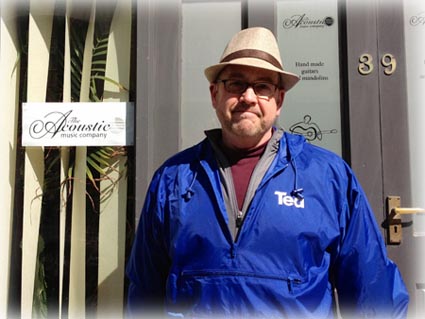 To tout a music store has "the best selection in the world" can come off like so much hyperbole. However, when you're talking a collection of cutting edge mandolin builders, one would be hard pressed to not include Brighton's The Acoustic Music Company on the list of candidates for the claim.
We had the pleasure of hooking up with the store's charismatic founder Trevor Moyle on a 4000+ mile pilgrimage to the United Kingdom recently. A delightfully scenic 75 minute train ride from Central London on Britain's National Rail was convenient, relatively inexpensive, and Brighton itself was pleasantly enchanting from the moment we stepped off the train. The town is a thriving tourist stop, and with a good arm, the storefront is literally a stone's throw from the English Channel.
Though barely over a decade old (2001) TAMCO has become an international rally for the work of premier American builders including Austin Clark, Andrew Mowry, Jonathon Mann, Hans Bentrup, Michael Heiden, Bill Bussmann, Mike Kemnitzer, and a few cottage builders like Bruce Weber and Pete Langdell's Rigel mandolins. There may be an occasional smattering of vintage Gibsons (one was being sold during our visit), but Trevor's passion is in the more modern design of today's progressive builders. This is where his inventory stands head and shoulders over any other selection.
In the world.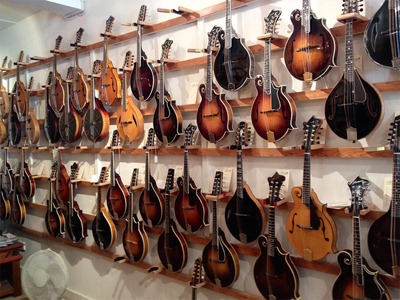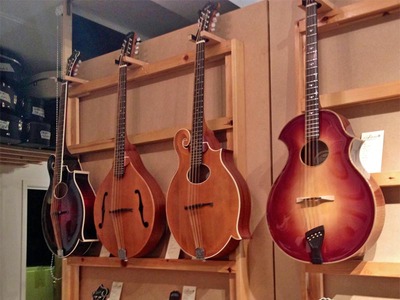 Not many places you will find more than four mandocellos on one wall, and we were thrilled to get our hands on an Austin Clark 'cello for the first time. Bright and lively, the instrument was everything we expected and more. His wall featured several of Austin's wares.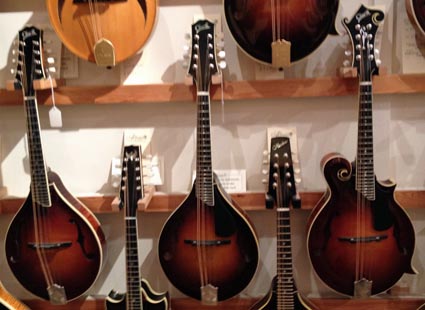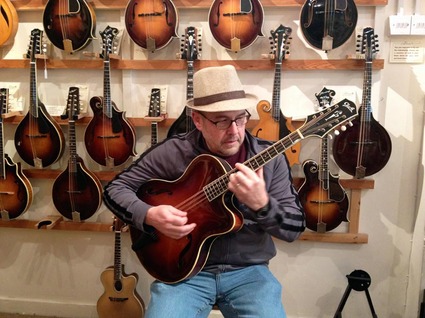 Trevor's passion for form is manifested in the commissions of several builders with his own personal design thoughts and tweaks. He showed us some of his headstock and fret ideas manifested a few of his own Mowry instruments.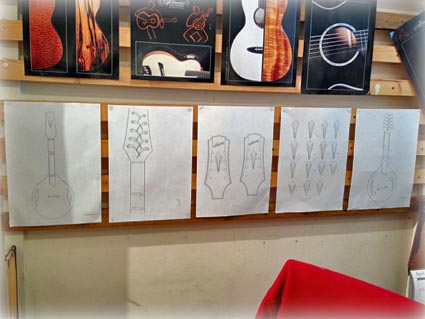 He also has a taste for some eclectic treasures, like a rare Gibson Mando bass, a Rigel I-110 "Cyclops" mandolin (only three made that we know of), and a stocks a pair of vibrant National resonator mandos.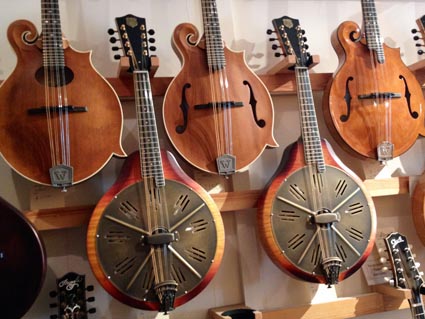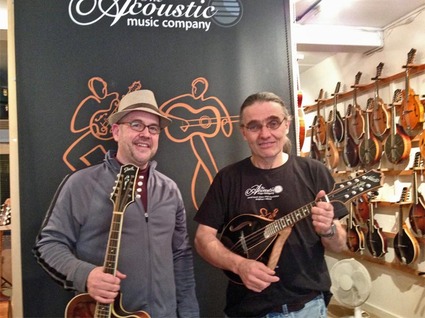 Trevor confessed recent struggles with the insane government paperwork necessary to ship to the US. Between dealing with the burdensome CITES documentation and taxes, he has been unable to export to the American clientele, but we'd offer the selection is worth a ticket to the UK just to visit his store. Brighton itself is a great diversion, and a pilgrimage to The Acoustic Music Company is one you won't forget.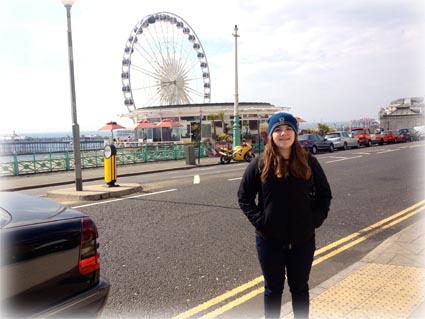 View one block away (pictured, staff assistant Erica Nicole Eschliman).
Website: The Acoustic Music Company
Come to Brighton!
Posted by Ted at April 9, 2012 5:47 AM