« "The notes seem to come from out of nowhere." | Main | New Stonewood mandolin case from Protec Music »

August 30, 2010 | New Paul Glasse Videos
Video treats from one of the planet's most amazing jazz mandolinists, Austin Texas stalwart, Paul Glasse. The first is a rare opportunity to witness a spontaneous personal demonstration of his new signature model Arrow mandola close up built by world class luthier Paul Lestock. This gem sounds as good as it looks:
View Link: Paul Glasse and his signature Arrow mandola

The next is a well shot performance during his trip to France at the 23 Degrees Festival Country Rendez-Vous in Craponne sur Arzon, July of 2010.
Lone Star Swing; Air Mail Special

Rumors, mind you, only rumors, but we've heard in addition to a new CD project in the works, his previous timeless treasure CD projects are about to become widely available again. We'll keep you posted...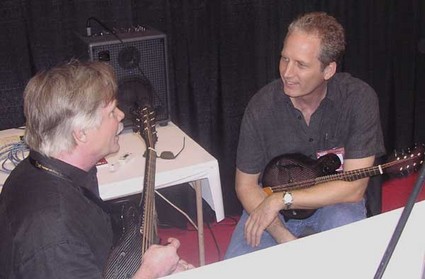 Will Patton and Paul Glasse at the 2007 Summer NAMM show in Austin, Tx
Artist Website: Paul Glasse
Posted by Ted at August 30, 2010 5:21 AM