« 3/4 violin; 10-string mandola | Main | New from MandoMorphis: 2010 »

May 26, 2010 | New from K&M; KM15530B violin stand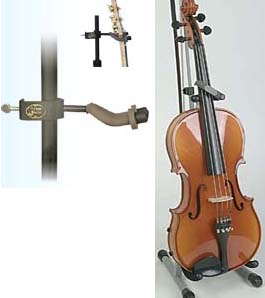 For a stage set-up we look to violin stands; shape, weight and size being very similar to the mandolin. In the past we've been very fond of the Comfort Cradle (String Swing) CC04 violin pole mount (left), because of the small (as in "no") footprint. When snuggged down, it's as stable as the microphone or music stand you mount it on. Of course if you don't have another stand around, our second choice has been the Sho-all (Ingles) SA-20 violin stand (right). Steady, stable, and low to the ground, that mandolin's not going anywhere & you have to work at it to tip it over...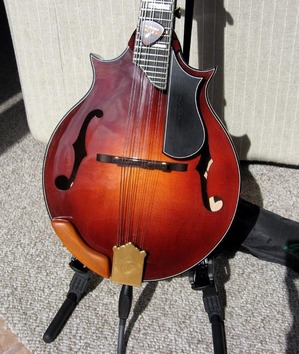 One problem remains for the "plugged-in" mandolinist. If you have a cord coming out of the endpin jack, you have a major physical balance problem with the SA-20 because of the floor flush mounting. You'll end up putting undue pressure on the cord, and disturb the stability of the mandolin.
Enter a new solution, the K&M 15530B violin stand. Relatively new to the US domestic market, this finely engineered equipment lifts the instrument clear of the floor yet still keeps a secure low profile.
You'll also notice the squarish rubber-coated fold-out lower arms hold the instrument, and tilted back, offers a confident security.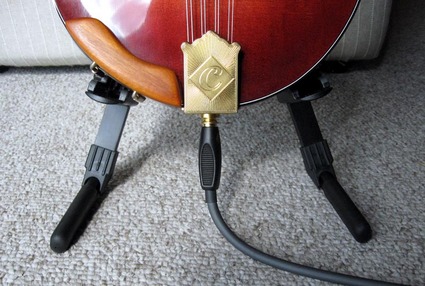 Compact, stable aluminum violin stand. Fully height adjustable instrument support arms can be adjusted to fit a variety of violin (and mandolin/mandola) sizes..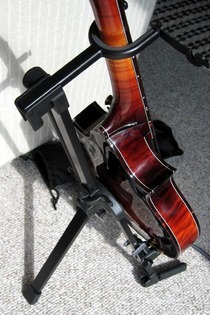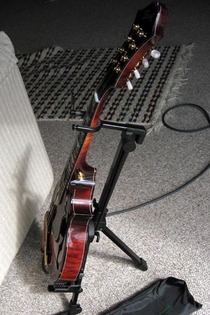 Click images for closeup
We've tested other K&M brand stands for sheet music and other instruments, and they are consistently manufactured of sturdy construction (aluminum) and high tech German engineering, yet lightweight and extremely compact. (Think Volkswagen Super Beetle.) Some of them are complex to assemble initially (need a pilot's license), but once you get the routine, each pivot each twist makes the stand smaller than competitive products. This is the case with the KM15530B; lots of adjustments, but by the time you have it completely fold into its nylon bag, it can be tucked unobtrusively into your accessory bag.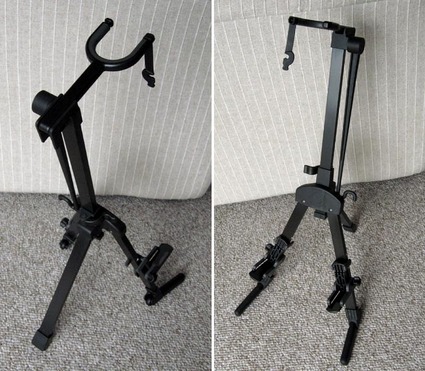 Height adjustment using a non-slip clamping lever that conveniently slides into place, the solid yoke has a no-slip safety lock to provide extra protection. A light rubber catch at the top of the stand allows you to quickly secure the instrument's neck for longer periods of storage.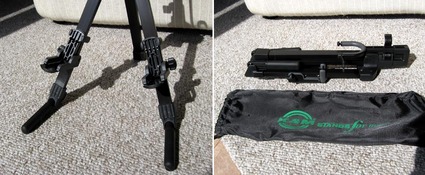 The instrument support arms are lined with soft plastic material to protect the instrument finish..

Expensive? With a street price around $40 yes, but if you want quality, reliability and unbeatable compact storage, the K&M is the stand to have for a variety of sizes of mandolin or violin.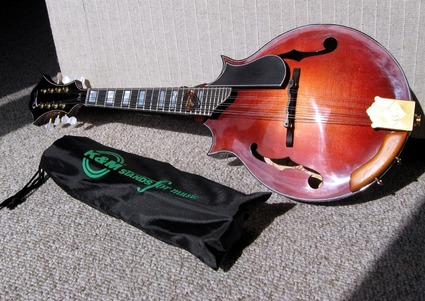 Manufacturer Specs:
Item: 15530-000-55
List Price: $49.99
MAP: $39.99
Features integrated bow holder
Folds small for travel/storage
Extremely Lightweight
Strong, stable construction
Fits a variety of violin (and mandolin) sizes
Safety lock on yoke
German engineering
Details:
Fully height adjustable instrument support arms are lined with non-marring soft plastic.
Height adjustment using a non-slip clamping lever. The solid yoke has a safety lock for extra protection.
Specs:, Aluminum, Weight 1.1 lbs., Folded size 13.7" X 4.3" X 2.7", Height: from 14.1" to 22.4"
Purchase: KM15530B violin stand

Posted by Ted at May 26, 2010 5:38 AM