« Thirty! | Main | iReal Book for iPad now available! »

May 2, 2010 | Breathtaking treasures at The Acoustic Music Company
This one is just killing us, a gorgeous used "Black Beauty" Weber Gallatin A with snakehead headstock, tortoise bound top and soundhole, quilted maple back and sides, Brekke bridge and high gloss finish. (Drooling...)
Our friend (and JazzMando sponsor) Trevor Moyle in Brighton, UK, has some of the most delicious new and used eye (and ear) candy you'll ever find on the planet. As proprietor of his store, The Acoustic Music Company, he's known for ordering on spec, the most amazing innovative instruments from world-premiere builders, as well as acquiring unusually good vintage instruments since opening his doors back in 2001. This is one of those amazing instruments and you can buy it here, please before it drives us crazy!
Buying from the United Kingdom in the US? No problem. It's pretty easy to convert currency (we did with Paypal), and according to the web information, shipping outside of the European Union, customers can get an additional 15% discount from the listed prices (in British Pounds). We've dealt with Trevor on personal transactions and can testify to great, honest service.
Browse the website from some incredible mandolins!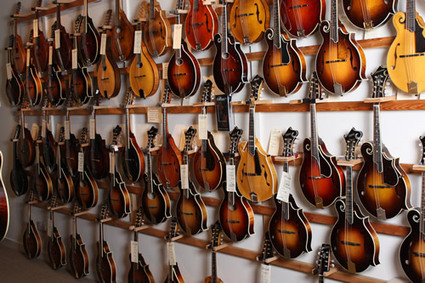 Website: The Acoustic Music Company
Posted by Ted at May 2, 2010 7:22 AM