Austin Clark
Clark JM Two-point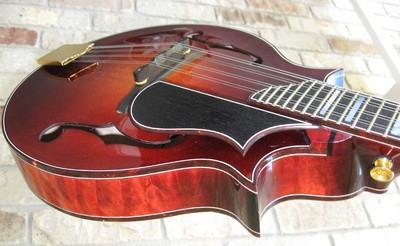 We're proud to have worked closely with some excellent premium mandolin artisans since the beginning of JazzMando back in 2003. There are some very good choices out there, but when it came time to collaborate with a builder on a signature series jazz mandolin, it was the experience with the craft of Austin Clark in the summer of 2007 with his Two-point (read review) that ultimately led us back to his bench to partner on a signature "JM" line of mandolins. Even that "stock" instrument (very much a stretch of the word, as he is prone to intense individualization with each customer), we could tell Austin was on to a clear, vibrant instrument voice that would serve our readers well.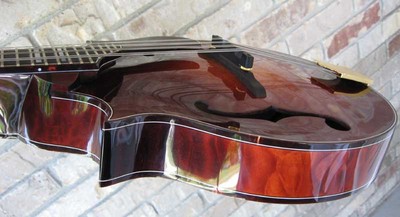 Really, there wasn't a lot we wanted to add to the total package, outside of some esoteric cosmetic touches, such as the "Jethro" panache with the block inlay, gold hardware for additional premium elegance. We were already hooked on the Cherry Cola-burst finish that complemented the tortoise binding at every point and curve. We loved Clark's sense of line, how effectively it was expressed with the thin white inside black binding, and then mirrored by the pickguard. From there it was a matter of achieving an efficient plug and play stage sound and further traversing his tonal journey in the pursuit of crisp sustain with an emphasis on string fundamental necessary to propel line. His sonic blueprint was already underway; he merely needed a loud and visible cheerleader. After the field research on the inaugural Clark JM, we are ceremoniously waiving the pom poms for him.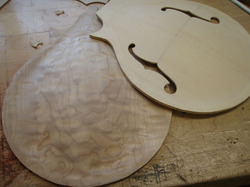 Let's start with Austin's woods. The topwoods he generally selects are very similar visually, a very tight grain count and a smooth look. For those preferring a timbre edge, Red Spruce has a brighter, more cutting tone, Engelmann tends to be on the warmer side. The Engelmann he chose for this JM was just what the Doctor ordered, a well-balanced crispness without losing the fundamental aural body. (Inside information; we were told he's energized about a recently acquired two-year supply of the surprisingly dense material, so it might be prudent to get an order in now, if this is a direction you'd like to go.)
If we had been looking for a bright, vintage sound, he would have recommended sugar maple for the back. Otherwise, he typically works with Bigleaf maple, or its rich round tone. Admiring the above "quilting," it is as beautiful to the eye as it is to the ear.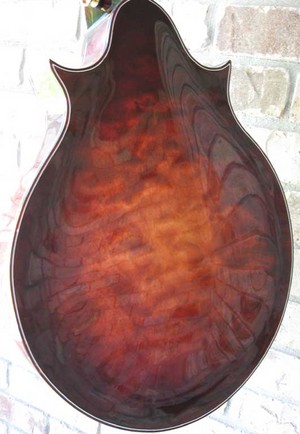 We mentioned the visuals we were striving for, and you can see by the pictures below, the block inlay is striking, but we also appreciate the pedagogical visual reference bonus. We don't endorse staring at the fretboard continuously while playing, but the ability to see the fret positions has its benefits, especially on the upper positions.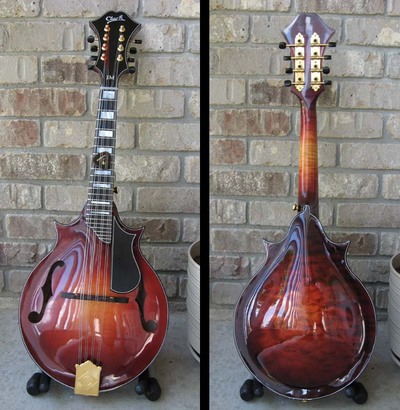 Click all pictures for close up.
Of course, we requested a moderately radiused fingerboard for playing closed position chords and melodies comfortably; standard for the builder is a compound radius from about 11" at the nut to 20" at the bridge. We also requested his standard neck width, 1-1/8 inch, and an ever so slightly more oval profile (vs. triangular) than the earlier Two-point model for the neck. We are pretty firm on avoiding an adjustable truss rod because of impending weakening of the rod channel, which gave us the carbon fiber neck reinforcement. (He will do either; we just opt for 21st century technology when possible.)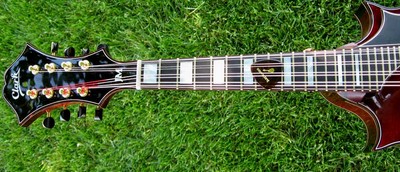 Note, we still had the "JM" signature inlay where the rod cover would have been. It was as good a place as any to discriminate the model from Austin's other Two-points, or any other competitive options. The tuners he chose to adorn the headstock are the new "Elite" black button tuners, though initially on the stiff side, work very well. (Better tight to start than and let time loosen them up over time.)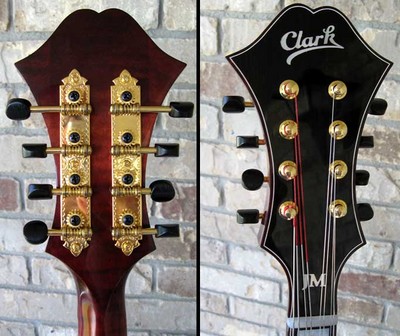 A weighty consideration for the JM over its predecessors was the opportunity to build a mandolin around the pickup for maximum, no-fuss "plug-in" stage playing. We were impressed with the sound of the K&K inside of several Larivee guitars, and worked with Dieter at K&K with options for best placement. After experimenting on an open back A model custom built for this kind of investigation, it was determined placement just outside the tone bars would be best. We insisted the initial JM would be maximized for stage performance, although the ability to have one built without is still an option. Again, better to put a pickup in and design around it than agonize over aftermarket alternatives. (Read more).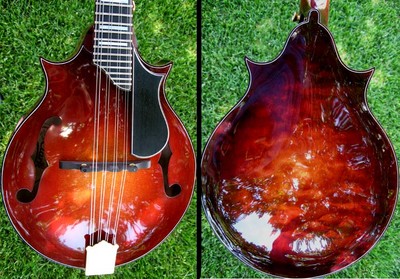 Like its predecessors, G and D strings are solid for meaty 3-note chording, and the E and A courses from 3rd to 10th frets yield a bell-like purity, soft on "ping" but potent with sustain. This makes melody effortless and intuitive with this instrument; Clark seems to have even further mastered the mechanical elements of wood and string that capture and deliver this. It would be disingenuous to suggest we had anything to do with his abilities to hone this; his design ideas were already pretty much in place. Now he's able to duplicate it in succeeding JM models.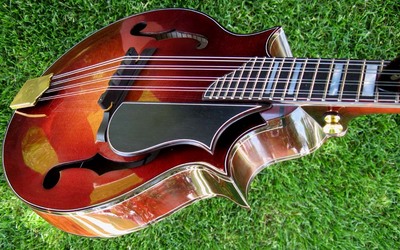 Let's be clear about the "JM" designation of this series. From a marketing position, labeling this with a "Jazz" moniker might be presumptuously narrow, so we opted for something a little broader by using just the two initials for a logo. Austin voiced the instrument for the JM11 flatwound strings especially, but string with J75 strings, it's capable of a penetratingly rich Celtic crunch--a string construction with a tad more decay. This is one you can feel confident and comfortable playing not only jazz, but any style of music where you want to be able switch between strong fundamental prowess for melody, and a composite of crisp definition and complexity for accompaniment.
If you're going to sling a premium instrument that sounds good, it might as well look good, and once again, a complete package here, including the aforementioned ebony binding, black/white/black inlay, gold hardware (including custom easy-access James tailpiece), Mother of Pearl nut, bound ebony tailpiece, block inlay, and our favorite, the JM inlay on the headstock to commemorate the monumental collaboration.

Speaking of the collaboration, we tried to keep the price as economical as possible, at least within "Premium builder" range. That you can get all these features for around $4000 is nothing less than amazing, and no doubt won't stay that low.
No financial interest on behalf of JazzMando.com, but we encourage you to contact Austin directly to see how you can get on the list for a JM Series mandolin, or at least something very similar from this world-class builder in a premier instrument:
Builder Website
Contact: Austin Clark
Sound demo:


---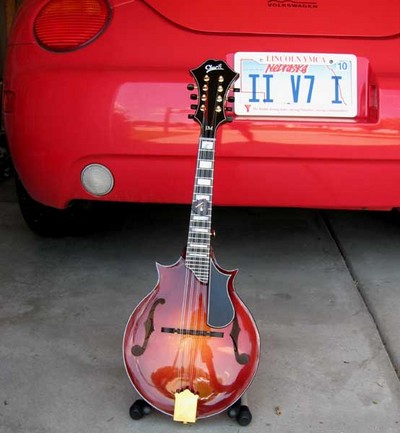 ---
Read up on other world class mandolin builders: