New from the collaborative efforts of Old Wave Mandolins and JazzMando: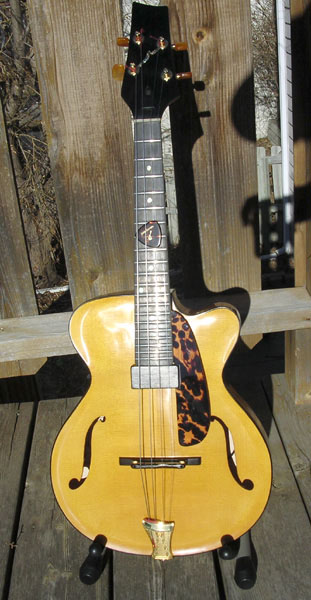 Bill Bussmann
Solocomp JM
Alto Guitar/Jazz Mandola

To understand the genesis of this instrument, we need to explain our personal aspirations for good jazz tone, and we will shortly. Let's talk looks, first. The stunningly beautiful cosmetics of the Solocomp JM, from the brain, hands, and magic woodbench of genius luthier Bill Bussmann of Old Wave Mandolins bears the beauty of a glamorous high-fashion supermodel. Make no bones about, though, this lovely blonde got brains, too!
The commission for this single course Jazz Mandola started in the winter of 2005. Extremely happy with the Arrow Jazzbo 4-string mandolin already in the JazzMando Laboratory, we envisioned an intriguing excursion into the lower register, the mandola CGDA might yield a more robust harmonic root and fundamental. Captivated a month earlier by Will Patton's Old Wave Octave Mandolin, we explored further and discovered its maker Bill Bussman had already crafted the Z-dola, an eight string, L-5ish jazzbox bodied beauty. This lead to a collaboration of JazzMando staff and Professor Bussmann to create a unique jazz voice, robust with sustain, string fundamental, and a playability well-suited for chord-melody style jazz.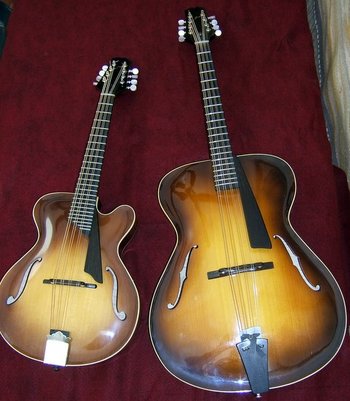 Old Wave Z-dola and big sister, Old Wave Octave Mandolin
There's a fine line between exotic and eccentric and one could easily plant Bill's instruments and their maker in this grey area. We have yet to see an Old Wave that isn't cosmetically sublime; this instrument takes this aesthetic to a whole new extreme.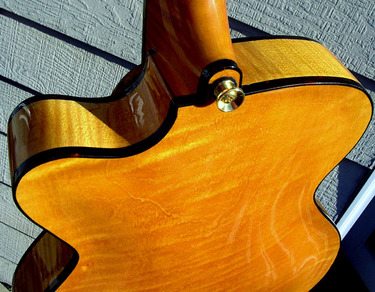 Click any picture for close up.
Highly flamed, blonde hued Maple, bordered by a contrasting tortoise binding, this fashion statement is as compelling as blonde hair and black leather. Adorned by gold pearl knobs on Grover Lock-tite tuners and gold Allen tailpiece, the instrument comes dressed and ready to go to town.
Aside from the cosmetics, what really turns eyes and ears is the tone. For those familiar with acoustic principles and concepts of harmonic overtones and the impact on tone color, Bussmann was able to pack a boatload of lower harmonic partials and fundamental when he carted this carefully selected top. Timbre in the timber!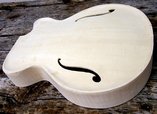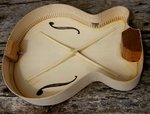 Musser Engelmann with Adirondack X-bracing
If a jazzer is to weave in and out of string melodic line and defining chords in typical chord/melody playing, this fundamental (pun intended) drive is crucial. The lower register certainly helps; additionally keeping the Solocomp's scale at 16 inches also offers a fret dexterity you would struggle to extract out of a longer tenor guitar. (Typically, tuned the same, by the way.) Admittedly, Bill was concerned initially about the single course 4-string and its lack of double course energy in driving the top; his fears now proven unfounded. The instrument is abundantly loud.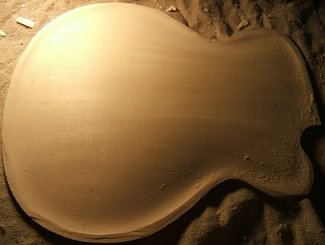 Top painstakingly hand-carved to produce maximum resonance.
We think there is a bright future for single-course mandolins and would advocate other builders follow the lead of innovators like Arrow Guitar and Mandolin Builder Paul Lestock, and now Bill Bussmann. Solid-body electrics have been around for decades, but there is a new voice to be heard out there within the resonant chambers of hollow and semi-hollow bodied mandolins.
We hope to see (and hear) many more.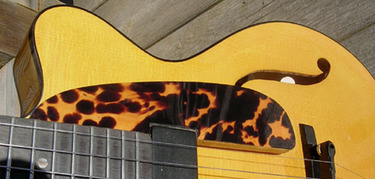 JazzMando uses Kent Armstrong custom pickups exclusively
Though the Solocomp JM stand on its own acoustically, we opted for a custom Kent Armstong hand-wound pickup. Attached (but floating) to a unique tortoise bound pickguard, the instruments plugs into a 1/4 inch plug out the endpin, under the tailpiece, and sounds like butter through a tube amp. Outside a zest of Reverb, the sound is sophisticated enough, it need not be adulterated with any other processing color.
Old Wave's base purchase price of the Solocomp JM lists around $3250, but of course, Bill can alter specs to your desire, and prices will reflect these changes.
For pricing and questions on the Solocomp JM, contact Bill Bussmann directly, or us at JazzMando.
Solocomp JM strung with new JD13 JazzDola Flatwound Strings. Highly recommended!
Read about other innovative builders: Builders' Spotlight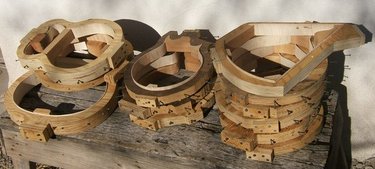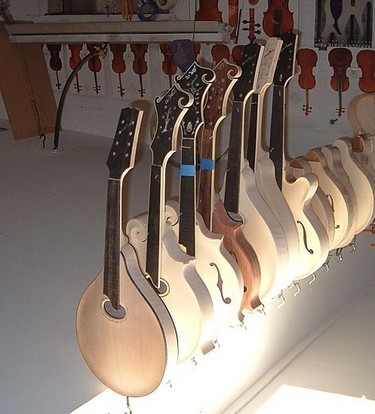 Old Waves in Progress (Solocomp 7th in line)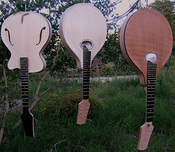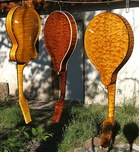 Solocomp, Mandola, Custom 10-string Bussdolim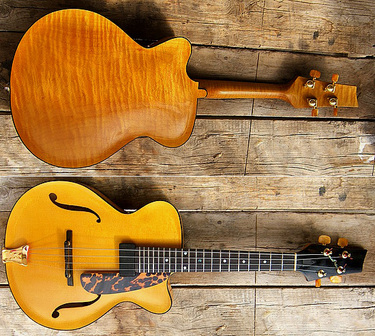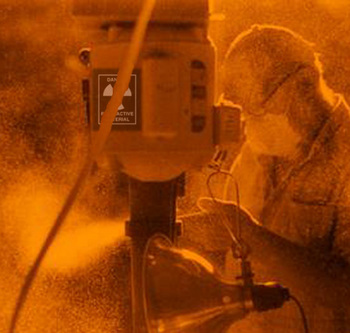 Hidden camera reveals secret process for putting more tone in Old Wave Instruments
See review on one of Old Wave Mandolins' more tradtional product: Old Wave Mandola



---

Read up on other world class mandolin builders: