« Focusrite iTrack Dock | Main | Aaron Weinstein; "Just You, Just Me" »

February 18, 2015 | 'I vi ii7 V7' Reboot.
Last week's Tips & Tricks archive article was a review of the iconic 'I vi ii7 V7' patterns in ergonomic 3-note chord fingerings. If you're off-put by the theory nomenclature, just ignore the text and play the TAB through.
These are pure gold, and once you get them into your fingers, the magic of the 5ths tuning on the mandolin allows you to start them a fret or two up or down, and be able to play in all 12 keys!
Don't forget to download the printable PDF at the bottom of the page!
View article: Best of JM: 'I vi ii7 V7' 3-note chord blocks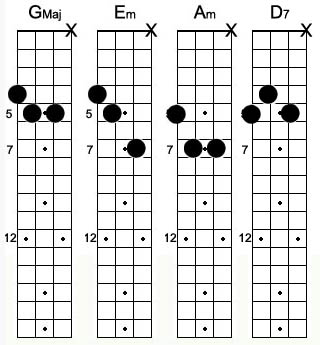 Posted by Ted at February 18, 2015 6:07 AM