« 2015 Django in June features the return of Don Stiernberg. | Main | Where are they now? Child prodigies 10 years later »

February 1, 2015 | Deering Goodtime Tenor Banjo w/Deluxe Bag
One of our coolest discoveries at the 2008 NAMM show was the line of entry level banjos at the Deering booth, "Goodtime Banjos." Street-priced in the mid $400s, they offer a respectable birch/maple rim 4-string tenor banjo worthy of attention.
Of course they are known world-wide for their prestigious high end product, but these beginner instruments remain a serious contender for the banjo hobbyist looking for quality. Manufactured in the Deering factory in California, the instrument is capable of rich and vibrant tone.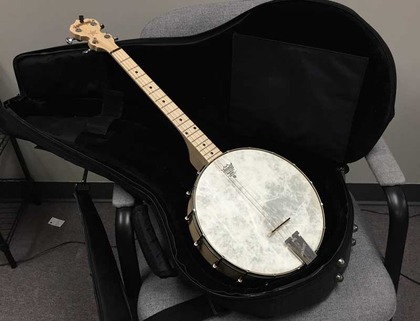 We bought one and took the advice of a professional and upgraded the head to a Remo Fibreskyn and packed it in a thickly padded deluxe RockBag gigbag. The instrument was used for accompaniment to torture a 10 year-old violinist at her violin recital.
Video Performance: Boccherini and Banjo

Goodtime Specs:
Tenor 19 Fret
Slender Rock Maple Neck
Birch and Maple Rim
Satin Finish
Adjustable Tailpiece
Geared Tuners
$516 suggested list price
Builder's website: Deering Banjos Goodtime Tenor 4-string Banjo

Posted by Ted at February 1, 2015 9:04 AM