« Caffeinated Swing from Colorado's "Espresso!" | Main | Get a grip. A 3-note chord grip. »

June 28, 2014 | Damian Draghici. Jazz pan flute!
You think pan flute would just be Zamfir. And you'd be wrong...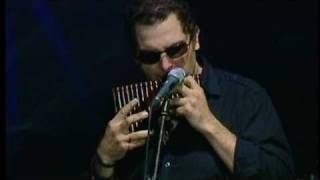 It bends the mind someone could play jazz on a diatonic instrument like this but Romanian jazz virtouso and Berkelee alum, Damian Draghici completely defies the inherent boundaries of the pan flute.
Outstanding music!
Video Link: Giant Steps by John Cotrane Damian Draghici

And the masses think jazz mandolin is genre bending...
Posted by Ted at June 28, 2014 5:38 PM