« NS Micro Tuner PW-CT-12 success | Main | Damian Draghici. Jazz pan flute! »

June 26, 2014 | Caffeinated Swing from Colorado's "Espresso!"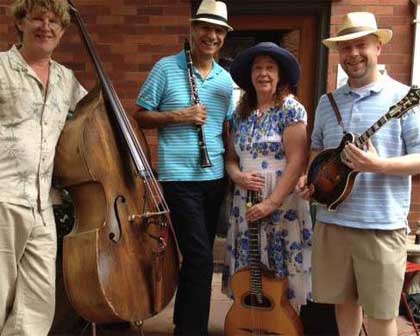 There's just something happy about the sound of clarinet in an acoustic swing band. It also complements the sound of the mandolin, aptly demonstrated in the new release from the Boulder, CO based quartet, Espresso. The self-titled project varies from the mournful cry in Minor Swing to the restless abandon of 'Deed I Do. Solid le pompe guitar and driving bass, this is not only a fun CD, it's a great study in the potential of mandolin in a great acoustic swing band.
Members include Bill Pontarelli, clarinet; Jordan Ramsey, mandolin; Emily Reynolds, rhythm guitar; Ben Berry, bass.

Purchase information: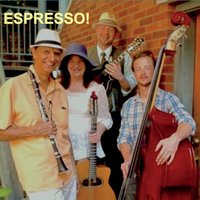 Facebook Page: Espresso
We posted mandolinist Jordan Ramsey's YouTube performance of the bop classic "Au Privave" last week. If you enjoyed that as much as us, you'll want to check out his TAB transcription in our recent Tips and Tricks column.
Get free PDF: Dave Peters TAB: Au Privave!
Posted by Ted at June 26, 2014 12:43 PM