« Food for rhythms. | Main | Deciphering the "Sus" chord »

November 22, 2013 | 3-note Chord Mug
3-note mandolin chords. Better range and timbre, more versatility in transposing up and down the fingerboard, and of course, a more pragmatic base for chord melody playing. Terrific for other 5th tuned instruments including mandola, mandocello, and 5-string mandolins, too.
A great Christmas gift not only for coffee, but for learning sets of 3-note chords on our often shrill instrument. Stick to the lower three strings and build your comping vocabulary of them leaving your E strings for melody and the "color commentary" of chord extensions, #9, b13, #11, etc.
Helping you drink these in, our 3-note chord mug!
Start building your own personal catalog with these grips, and juice them with a little caffeine.
Literally.
Purchase information: JazzMando 3-note 7th Chord Mug?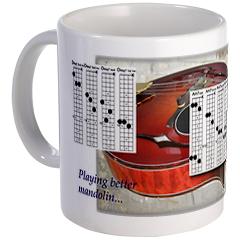 Posted by Ted at November 22, 2013 4:59 AM