« Guide Tones with Dan Haerle | Main | Chordbot. Muse assistant. »

May 27, 2013 | Jazzbooks "Play-A-Long" sale
We love a good holiday sale and Jazzbooks.com has one to take note of. Literally.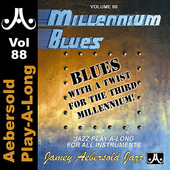 Today is the end of their four day Memorial Day "Play-A-Long" Sale. There're some pretty good resources in their, good tuneage and world class audio accompaniment. We were particularly interested in the Millennium Blues (Vol 88) book for only $5.97.
Sale ends today, though!

You may be aware if you ever want just the MP3 audio tracks for the Jamey Aebersold Play-A-Long books, you can download them inexpensively at Amazon.com or iTunes.
Audio:


Amazon Jamey Aebersold Play-A-Long


iTunes Jamey Aebersold Play-A-Long
Posted by Ted at May 27, 2013 5:47 AM