« Old Djoe Clark is back | Main | Great Vintage Mandolins Under $1,000 »

March 17, 2012 | Your pick. Your call.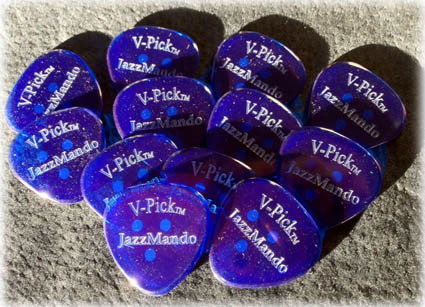 We've got strong personal opinions on pick selection, and made a case for the thicker (1.5mm) pick on a recent Tips and Tricks column, "Patience with Picks." Each person has different fingers and hands, and approaches to the instrument. Pick thickness can make a dramatic difference in your sound and the approach to tone production.
When you listen to a radio, if its music you want, you're looking for deep rich bass within the contact of a dynamic full range of sound. If it's talk radio or news, you need an emphasis on high frequencies to distinguish the subtle articulations of speech. A full spectrum can make it hard to interpret words.
The playing style we nurture here for jazz and classical music is about an emphasis on that rich low register. Bluegrass is about sonic penetration. Achieving volume is not just about loudness, either camp needs to know best how to throw the sound in context. It's interesting to see how other players arrive at their own conclusions how to win this battle.
Read Tips and Tricks article: Patience with Picks

Posted by Ted at March 17, 2012 11:03 AM