« Black Friday recommendations for mandolin | Main | Don't mean a thing, if it ain't got that swing. »

November 26, 2011 | John McGann, Julian Lage, Darol Anger, Rob Thomas--Opus de Funk
From the Berklee College of Music stage, some wonderful jazz improvisation recorded earlier this fall. Enjoy the melodic banter banter from some of the most talented string jazz musicians around, including our own John McGann.
John explains, "This is a 12 bar blues, we went into it unrehearsed, since it's a common enough form, key Eb, ready set go! Each player is calling upon the sum of their experience up to that moment to create something familiar enough to be idiomatic, yet new enough to not be a rehash of the 'same old licks'. When things get "out there", or when they are "straight ahead", it is the responsibility of each musician to be totally tuned in to their environment- to be able to respond spontaneously to what is happening around them, hopefully without overplaying or underplaying...it's a bit tricky but great fun.
At one point around 3:30 you hear the guys in the band finish my idea for me- that kind of thing shows they aren't off to the side, thinking about getting to the pub! There's also some group improv before the last head that involves a bit of dynamics and interplay that really require that 'be in the moment' state of mind to make work. These things make each performance unique, and really draw upon the musical personalities/sensitivities of every player."
View video link: Opus de Funk

Berklee Sept. 2010
John McGann- mandolin
Darol Anger- fiddle
Julian Lage- guitar
Rob Thomas- bass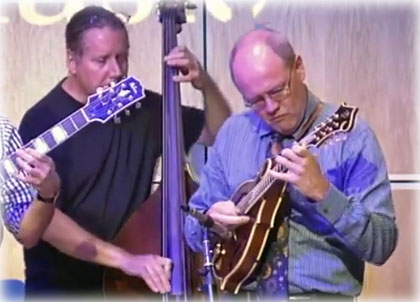 Read Mandolin Cafe interview: Ten Questions for John McGann
John McGann: Right hand considerations for flatpicking

Posted by Ted at November 26, 2011 5:19 AM