« Some big changes at JazzMando | Main | Tom Bekeny; "You'd Be So Nice to Come Home to." »

March 28, 2011 | Brian Lock Stardust Series Two-point mandolin
Last fall, we had the privilege of introducing you to the wood and steel wizardry and craftsmanship of the Pecos, New Mexico builder Brian Lock with a hand-on review of one of his stunning Red Spruce and Red Maple Two-point mandolins. We're pleased to see the veteran builder further his own signature style and silhouette with a delicious new signature model, his "Stardust" series, having interned under three of the greatest contemporary bulders in the 21st century, John Monteleone, Mike Kemniitzer, and Steve Gilchrist.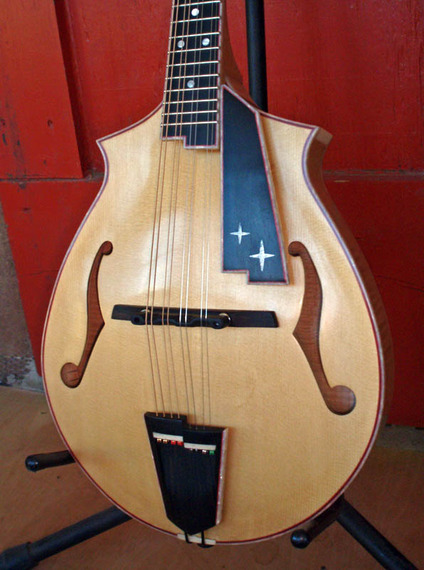 Brian weighs in with his rendition of the "jazzers dream." Constructed of Euro spruce and Sugar Maple, strutting a floating ebony tailpiece, he brands the series headstock with a red coral headstock inlay:
What we love best is his over-the-top pearloid binding. Brings to mind a Seinfeld episode where George claims, "I would drape myself in velvet if it were socially acceptable." We feel the same about a mandolin ensconced in pearloid.
We can't say enough about this, other than we'd die to get our hands on one. Sounds like a permanent loan would be on order here.
Read archive review: Brian Lock Two-Point
Builder's website: Brian Lock Mandolins
Read up on other world class mandolin builders: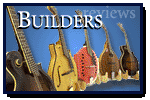 Posted by Ted at March 28, 2011 5:52 AM