« The best things in life are (sometimes) free | Main | A river runs through it. The latest from Old Wave Mandolins »

June 21, 2010 | Back in stock, JM11 strings
We're happy to report the arrival of a full shipment of JM11 flatwound strings, and we have enough of a supply to make your mandolinning pleasantly smooth to your fingers, and your ears. If you seek a warmer, richer sound, and don't demand an obnoxious percussive "smack" out of your mandolin, these are what you are looking for, and an inexpensive way to upgrade your mandolin tone.
Easy on the fingers. Easy on the ears.
The polished custom flatwound Labellas have a much closer, tighter wrap which resists corrosion and wear from oxidation and player perspiration (similar to the world renown Thomastiks), and this dramatically increase string life. The steel alloys lends a crisp, subtle "punch" for a sophisticated bell-like articulation. Player comfort from the smooth strings makes these feel as great as they sound!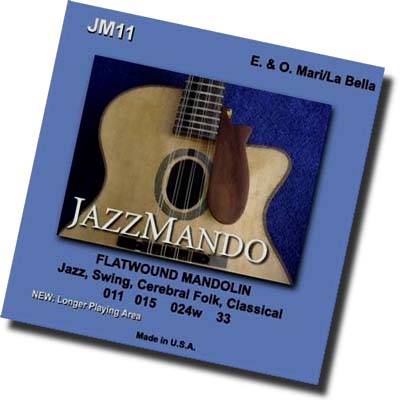 Though initially branded for jazz, these will also work well for the classical, folk, and blues mandolinist. They won't "spank" banjos in a loud acoustic setting, but they will give you definition and a warm character for more intimate solo and small ensemble environments.
Strings are sold 2 for $29.95, 1 set for $16.95, and that includes US Domestic and Canada. (We can also ship to most countries for $7.00 additional.)
Purchase: JM11 Flatwound Strings
Also, although we have a limited supply, we're still running the five dollar special on JM Pick shirts. You can still load your shopping cart with one of these in Large or Extra Large.

You never know who you'll bump into wearing one of these...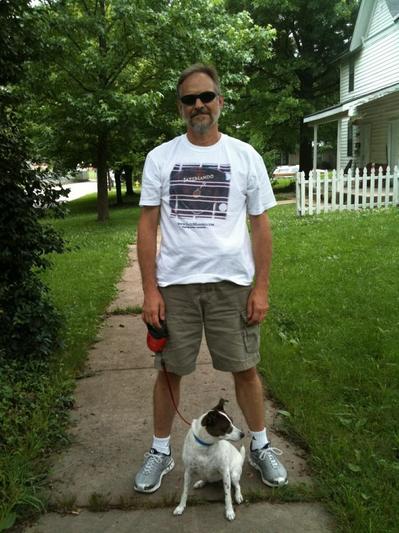 Purchase: $5 Shirts
Posted by Ted at June 21, 2010 6:06 AM