« Passing Chords. Fill in the gaps. | Main | Improvisation is conversation »

September 25, 2014 | Vamps summary. How to amaze and impress your friends.
One of the series we are most proud of was our 2012 comprehensive approach to Vamps in which we mapped out some common 3-note comping patterns you can apply to a myriad of tunes. These were even placed into permanent history as a Lesson Archive at the Mandolin Cafe
If you do nothing else on the site, at least make sure to dig into them. Amaze and impress your fellow musicians:
Vamps Pt 1. Creating energy with Diatonic triads
Vamps Pt 2. Expanding the Diatonic triads
Vamps Pt 3. Scurry Dominants
Vamps Pt 4. Circle of fifths
Vamps Pt. 5 Minor Modal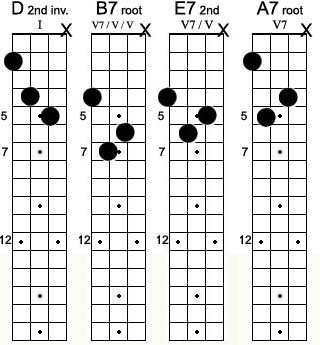 Along the same lines was our series on 7th Chord Streams, Major and Minor. If you haven't already, be sure to print out the two page PDFs of the chords there. They are especially good for the 5-string mandolinist or tenor guitar/mandolaist.

Posted by Ted at September 25, 2014 4:16 PM