« Best of JM: Raking it in. Autumn Leaves Pt. 2 | Main | How to Adjust Your Mandolin Action »

August 7, 2014 | Reverse Dorian/Minor Arpeggios
It's been a two-month hiatus, but we wanted to get in our final of "Reverse" FFcP entry before the time got away from us. Recall, we were looking at escaping the reliance of always starting drills with the root and always going up. We did scales in both Major and Dorian/Minor, and we did one on Major FFcP Arpeggios. It's time to finish the series with the Arpeggios in the Dorian/Minor mode.
Recall, we don't like to get trapped thinking the three forms of minor, Natural, Harmonic, and Melodic. We feel they are esoteric. It's more important to spend time on the Dorian (lowered 7th) mode when you're playing jazz, arguably with folk genres, too.
Still, you don't want to get completely away from that leading tone (raised 7th). Its harmonic pull cannot be denied, so we've include it in the exercise, thus the hybrid title.
As we've said before, get these into fingers and ears, and while you're at it, started thinking how the linear relationship of line flows with the vertical (chord) structure. We've included the chords for this reason.
Download free PDF: Reverse Dorian/Minor FFcP Arpeggios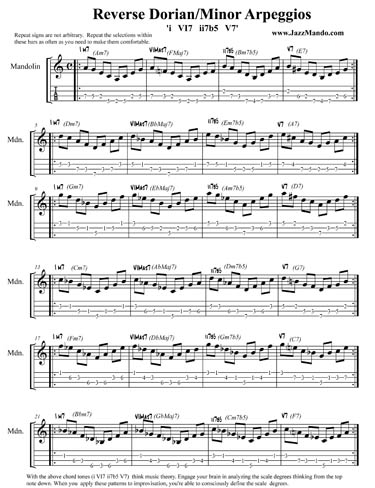 Make sure you have all four exercise printed. See links below.
Further:
Reverse Major FFcP Scales
Reverse Major FFcP Arpeggios
Reverse Dorian/Minor FFcP scales
Dorian/Minor FFcP Studies
The esoteric Minor Scale

Posted by Ted at August 7, 2014 4:07 PM