« Diatonic Major and Minor Chords with Brian Oberlin | Main | Best of JM: Thin-slicing and Music Theory »

April 11, 2013 | Stella by Starlight 'iiv7b5 V7' Fun
Minor keys often baffle the bluegrass musician. Generally a minor-ish folk song will be more simple, Dorian or Aeolian with it's more static 6th and 7th scale degree is far less challenging than the ever shifting minor keys of jazz. First casualty is the ii chord of the minor mode, most often expressed as a ii7b5. That lowered 6th expressed in this chord means we need to realign the way we express this chord, and it isn't always easy for the novice.
We introduced some block chords in our Tips and Tricks column several weeks ago Major 'ii V7 I' 3-note Mandolin Chord Blocks, and we encouraged you to continue to experiment with transposition. This week we'll take you into a traditional jazz favorite that will allow you to experience how valuable it is to be able to internalize the first two of these chords. The haunting Victor Young ballad is ripe with 'ii7b5 V7' and you'll enjoy a couple variations you can transport into other minor key songs.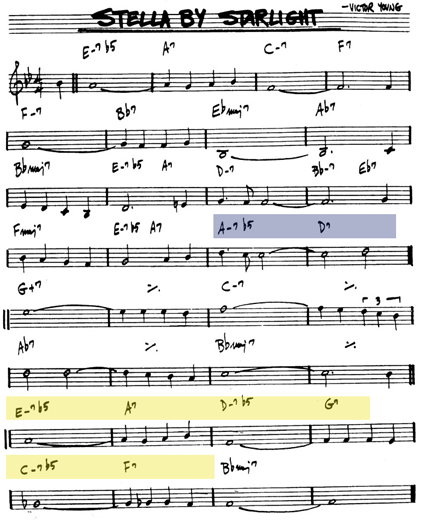 Note the chord progressions at the end we've outlined in yellow have "Circle of 5ths" progressions starting with the Em7b5. We've started this with a block higher in the frets, and you'll see why as you descend. You can play this whole section with just two blocks!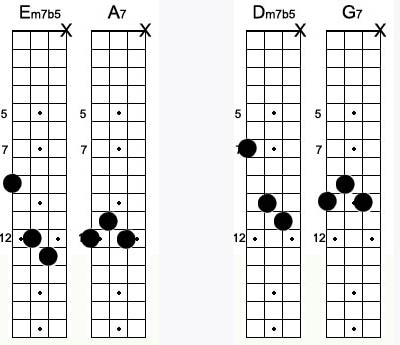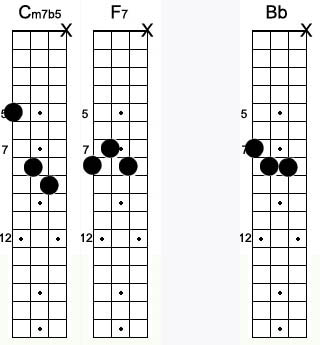 We ended this with a Bb chord like the song, but you can take the Circle of 5ths farther into your own exercise in music theory if you were to continue on with a Bbm7b5: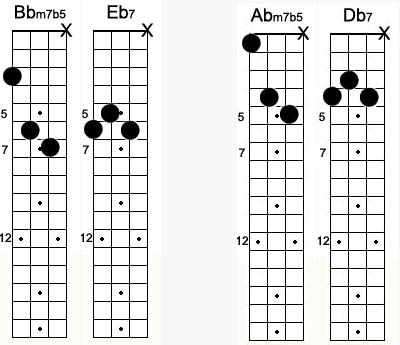 In the pattern we've outlined in blue, you can move the 'iim7b5 V7' up a fret and voice it there, or you can use another chord block higher up the frets we show below: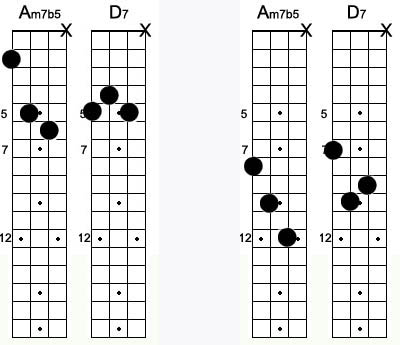 For kicks, how about taking the 'Am7b5/D7' on through some more theory and work it down the fretboard, too: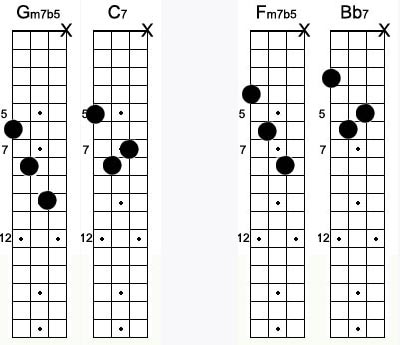 Again, we encourage you to be able to use these blocks in other songs, other keys. Go back and look again at our 'iim7b5 V7 I' grips and come up with your own Circle of 5ths exercises!
Ralph Patt backing track Stella by Starlight
Stella MP3 downloads
Further
m7b5 Chords
Applying minor chord blocks--Black Orpheus
'ii V7 I' and 'ii7b5 V7 i' Home Positions
Vamps. Minor modal
ii7b5 V7 i Minor Patterns
Posted by Ted at April 11, 2013 10:12 AM