« Chord Commonalities | Main | Stella by Starlight 'iiv7b5 V7' Fun »

April 4, 2013 | Diatonic Major and Minor Chords with Brian Oberlin
For this week's Tips and Tricks article, we have another special treat from guest columnist and Oregon clinician, Brian Oberlin. In addition to his Pacific Northwest teaching and playing schedule, Brian coordinates the prestigious June River of the West Mandolin Camp, one of the finest mandolin workshops in the world. This week, Brian gives an important introduction into the world of music theory specifically for the ears and fingers of the mandolinist.
Quick but important plug in for River of the West, Brian tells us there is still some space available in the camp, but it would be a good idea to get your registration in right away. It's closer than you think! (See link below)
We can only imagine how beautiful the woodlands of Oregon is that time of the year.
Diatonic Major and Minor Chords with Brian Oberlin
Download 2 page PDF:

Diatonic Major and Minor Chords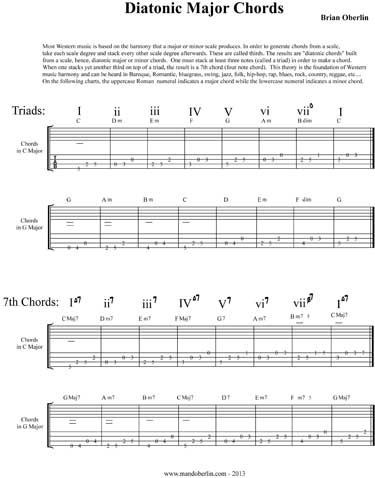 My students are always asking for new tips on improvisation and I consistently tell them that there is no "instant gratification." Meaning, once you learn a new chord and your fingers find it easily, it is instant gratification. Improvisation is not this easy. One must put in the time in order to speak the language of improvisation. The first step is to understand the chords that you will be soloing over. This is my first entry into "Better Improv" and you should familiarize yourself with diatonic chords in major and minor. Learn chord shapes and practice the arpeggios listed. Most importantly, understand the basic rules of what chords are in a key. Once you learn the rules, you can start breaking them and off we go!!!
Any questions, please email me. - Brian Oberlin
www.mandoberlin.com
Read previous Brian Oberlin article:
Voice-leading swing chords and extensions
---
Camp information: 2013 River of the West Mandolin Camp
June 6 - 9, 2013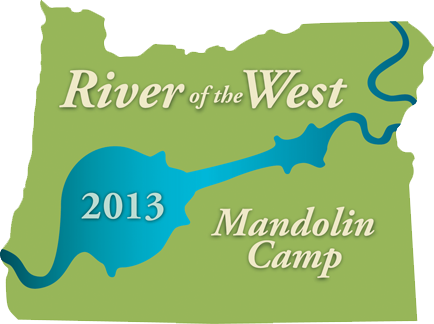 Columbia River Gorge, 20 miles east of Portland, Oregon
Further
Fitting in with triads
Vamps. Creating energy with Diatonic triads
Five part series on 3-note vamp chords complete
Vamps. Expanding the Diatonic triads
3-note Mandolin "Playing Cards"
Posted by Ted at April 4, 2013 7:19 AM