« Photographing Mandolins | Main | Two Octave FFcP »

June 7, 2012 | Fitting in with triads
We've presented many forms of 7th chord grips, explaining inversions, functions, and chord economy. We've also looked at some extended chords (X13, Xb9, X#11) and one thing we've overlooked in the years we've been around is the use of simple Triads.
We had a discussion about this with Chicago jazz mandolin royalty, Don Stiernberg a few years ago, and he weighed in with some profound thoughts on the adaptability of simple triad chords. Root, 3rd, 5th. You don't don't get much simpler than this and like vanilla ice cream in a Sundae, a lot of delicious ingredients go with this. His suggestion, sometimes when playing with other fretted accompaniment instruments, you can have full contact battle with comping musicians expressing complex extended chord voicing. You have a dominant 7th chord and the piano player slips in a #9, but the guitarist wants to do a b9. Or even a regular 9. Since the mandolin gets to hang in the juicy stratosphere of harmonic extensions by virtue of its soprano register, the risk is higher for us running into harmonic conflicts while comping.
Don's suggestion? Use more triads, no extensions. "Even 7ths. You don't necessarily need to play an Am7 when an Am chord will do. Straight major or minor triad," says our jazz mandolin hero. Often, that's all you really need to contribute to the ensemble to contribute, let alone appropriately fit.
Sometimes we do make things complex--to a fault. Maybe it's time to review your triad vocabulary. The late John McGann has a great introductory article on Triads on the Mandolin Cafe lessons pages.
Check it out:

John McGann's Guide to Mando Triads
MAJOR: 1 3 5
MINOR: 1 b3 5
AUGMENTED :1 3 #5
DIMINISHED: 1 b3 b5
We would also continue the notion that building these in 3-note blocks would not only increase your chord vocabulary, it would give you a slew of new connecting chords in your comping. Use the neutral blocks in other keys to pass from one chord to the next.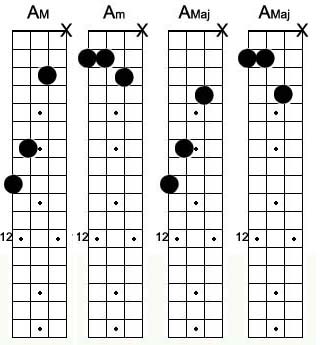 Further:
Mandolin Chord Economics
More Appropriate
Opening Opportunity in Accompaniment Mandolin
Comping and fluorescent bulbs
Posted by Ted at June 7, 2012 9:37 PM