« Right hand considerations for flatpicking--John McGann | Main | Pete Martin: Bebop Scales for Mandolin and Violin »

November 10, 2011 | 5-string chording. A different way of thinking...
Thinking CGDAE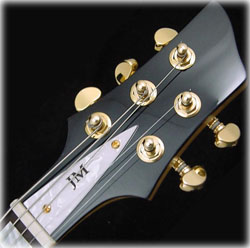 We get this inquiry often, and although not everyone is a 5-string owner, these are still some principles worth applying to a 4-string. The question is about chord charts for 5-string. It makes sense, someone adds a string and wants to know, what are the new fingerings I need to know to get the most out of the instrument? Where is there a chart?
Our approach is different, so much about moving chord blocks around the fretboard, transposing chords, thinking relationships, that we wouldn't necessarily refer to a comprehensive "chart." Knowing that you aren't often going to hit all five strings at once, you stick to the chords you know already, move them over a string and think them down a 5th. (See circle of 5ths below.)
The other concept we suggest is using less 4-note chords and more 3-note chords. It sounds counter-intuitive, you purchase an instrument with a wider range and you naturally want to begin adding extra sonic real estate, larger chords with the 5th string, but instead, you'll ultimately end up increasing instead the area to apply the chords. It's just a matter of learning your 3-note chord blocks and being able to manifest them in new positions.
Worth considering, the extended low (tenor/baritone) range of addition of the C-string gives you richer harmonic field than you find on an 8- or 4-string mandolin. As a rule, start with the thickest three strings for chording, and move them linearly up the fretboard--NOT across the strings. Our last three Mandolin Sessions articles (links below) give you the V7 and Major 7 blocks that can start you down that path. Of course, you'll need to transpose them down a 5th (A7 block becomes D7 block). It takes a little thinking at first, but it all becomes 2nd nature as you repeat them over and over.
It's not a table of chords, rather an open system of thinking the fretboard. A whole new "process."
The links below are a start to the 3-note block way of getting around the new terrain. If it's trouble thinking transpositions, use a Circle of 5ths chart as a cheat sheet: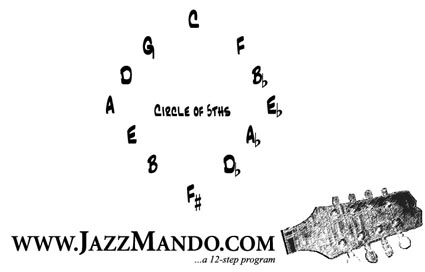 As an aside, this approach has been invaluable in adapting to a baritone electric mandolin in which the strings are GDAEB.
It's all relative...

Resources:
Static Changes: V7 chords
More Three-note chords to supercharge your comping
Static Changes: Major 7ths
Static Changes: Beginning to See the Light
GRIP #1
Charlie Jones 3-Note Chords for Mandolin
Posted by Ted at November 10, 2011 2:39 PM