« Best of JM: The Basics of Auditioning Instruments | Main | Don Julin; Jazz/Swing rhythm for mandolin »

April 21, 2011 | Best of JM: Build your own flatwound string sets
The weekly "Tips and Tricks" column will be on a temporary indefinite hiatus while we finish up a book project. Meantime, enjoy the popular archive material below.
From July 30, 2009: "Build your own flatwound string sets"

---

We've had tremendous success with our JazzMando Family strings. Strung low and light, these flatwound steel strings are the answer to a Maiden's Prayer for the player who plays in closed position more than open strings, as in Jazz, Swing, Cerebral Folk, and Classical music. Players rave about their comfort and their warm tone.

One problem, and it's an issue of a product's strength also being a weakness. The silk wrapping that holds the core down and binds the string at the end of the loop (or ball in the JM10B (now discontinued) can limited the playing area. The strings are also not long enough for the larger scale instruments, the JM11 for a maximum 14-3/8" scale, and the JD13 for a 16-17", let alone octave mandolin or bouzouki. (The JD13 will also not be long enough for some tailpieces, as in the case of a Weber Yellowstone dola, where the inside G & D run short). We've asked Labella about this but they can't make a flatwound without this winding, and the strings are too expensive for us to carry in multiple sizes.
We mentioned in the past our collaboration with D'addario on this, particularly on a string that can double as a mandola OR an octave mandolin; the gauging would be the same. Their process requires no silk wrapping, but despite exhaustive talks that started over two years ago, a pilot prototype is still on the drawing board. The project keeps getting pushed back. See article.) The solution is really quite simple; D'addario is already making this string in their Electric "Chrome" Series for guitar. We've had great success personally making the strings work for acoustic instruments, but it does involve a little minor surgery removing the balls and leaving the loop.
The CG series can be purchased singly; the plain strings come in packs of 10 and the wound in packs of 5. It doesn't hurt to get spares, as it takes a little skill learning how to snip the balls and still leave the loop intact: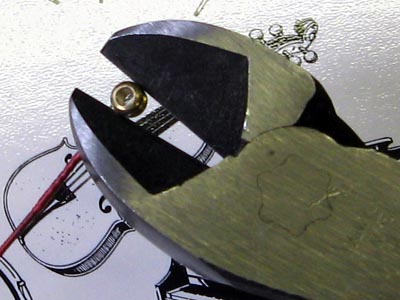 The trick is to use a high quality set of wire cutters, or better, if you have access to a set of shop end knippers, the job is pretty easy. The brass in the D'addario ball is pretty soft, so with a little careful pressure, they generally break clean and leave the loop intact.
These are the gauges the flatwound Chrome singles come in. This is great if you want to customize your own, and since they are guitar scale, you should be able to use these in longer mandolin family instruments like mandola, octave mandolin, bouzouki, and mandocello.
Item # Product
CG020 Single XL Chromes Flat Wound 020
CG022 Single XL Chromes Flat Wound 022
CG024 Single XL Chromes Flat Wound 024
CG026 Single XL Chromes Flat Wound 026
CG028 Single XL Chromes Flat Wound 028
CG030 Single XL Chromes Flat Wound 030
CG032 Single XL Chromes Flat Wound 032
CG035 Single XL Chromes Flat Wound 035
CG038 Single XL Chromes Flat Wound 038
CG040 Single XL Chromes Flat Wound 040
CG042 Single XL Chromes Flat Wound 042
CG045 Single XL Chromes Flat Wound 045
CG048 Single XL Chromes Flat Wound 048
CG050 Single XL Chromes Flat Wound 050
CG052 Single XL Chromes Flat Wound 052
CG056 Single XL Chromes Flat Wound 056
CG065 Single XL Chromes Flat Wound 065
CG075 Single XL Chromes Flat Wound 075
CG080 Single XL Chromes Flat Wound 080
You can read about availability and pricing here: D'addario Chrome Singles
This is the target set for mandolin (similar to the Labella JM11) with the following gauges:
LE011
LE015
CG024 (loop)
CG036 (loop)
A set that could function as both mandola and oshorter scale ctave mandolin sets. (Gauging between these is not all that different among existing mass market offerings.)
LE013
CG024 (loop)
CG035 (loop)
CG045 (loop) (possibly CG048)
For our JP Charles 10-string, we've arrived at this (14-3/8" scale):
LE011
LE016
CG026 (loop)
CG035 (loop)
CG056 (loop)
The point here is you can experiment, land on something that works for your own instrument. The JP Charles is set up with very low action and we've tweaked the gauges over about a month time settling in on this after much revising. You'll probably want to move slowly yourself on these adjustments.
We're still hoping to see the D'addario Flatwound String Project come through. Last talk at the recent Summer NAMM show is Product Development is still very much committed to this, but several other classical guitar string and internal OEM projects have taken priority.
Further:
JM11 Flatwound Strings
About Flatwound Strings
About new strings...
Flatwound string project: Mandola/Octave Mandolin

Posted by Ted at April 21, 2011 7:43 AM