« Freshening up | Main | Don Stiernberg on the "Big Picture" of improvising »

February 25, 2010 | Apps for Learning Notation
This week's tips column comes from Staff Researcher Charlie Jones, a simpatico who shares the joys of pursuing mando knowledge and is more than happy to weigh in with his thoughts on this site once in a while. Perhaps not unlike many of you, he's been struggling with learning notation late as an adult, but he's uncovered some valuable iPhone/Touch tools and practice suggestions to help in this journey. We wanted to share these with you.

---
Apps for Learning Notation
Charlie Jones, JazzMando Staff Research Assistant
Every few months I ponder the task of learning to read standard notation for the mandolin. Sadly though, either my motivation fades or family and work commitments get in the way. I recently picked up a copy of Mel Bay's J.S. Bach for Mandolin and after learning a couple of the easy pieces from the provided TAB I was hooked. Bach is just plain fun to play and it offers a nice retreat from a daily diet of fiddle tunes. It didn't take long to find my motivation; the music I want to play (jazz standards and classical) lives in the realm of standard notation. Yes you can find or create TAB, but I've decided that the time and effort spent doing so could be applied to learning notation. Like most long-term projects I tackle, I set out to find some tools to help me succeed. First up was something to help me structure my playing time and keep me focused. After some searching, I stumbled onto an iPhone/iPod Touch application called Practica. Practica is allows the student to create a practice schedule and to keep track of what you've worked on. The student enters their lesson, assignment or tune into the schedule. Practice then keeps track of the time spent on each of the entries in the practice schedule. You can then go back and see how much time you've spent on each component. Practica also assigns a major and minor scale to work on each day (I use FFcP Major and Minor Mandology for the chosen keys). In short, Practica is a practice log that makes it easy to track your progress. Practica also includes a metronome and then enter notes for each practice session. I usually enter tempos and progress information into these notes. Lastly, Practica has the ability to record audio, which can be helpful in tracking your progress on a particular piece.
Another app I found for the iPhone/iPod Touch is iReadMusic. iReadMusic is basically a flash card type application for learning to read standard notation. There are several modes, but I prefer the "Play That Note" mode. In this mode the student sees a mandolin fretboard on the bottom of the screen and a notation staff on the top. A note appears on the staff and the student has to find it on the fretboard. The concept is simple enough, but iReadMusic gets some critical details right. It's quite configurable in terms of the notes it chooses. This allows you to tailor the application to what ever notation instructional method you are using. Most methods are incremental; they start with a small set of notes and progressively add to that base. iReadMusic allows you to configure the app to match where you are in your method. The application also scores your performance based on time and accuracy. If you are the least bit competitive, you'll find yourself repeatedly trying to beat your high score. If you have your iPhone and a few minutes to spare, you can practice your reading skills anywhere. Family, work and personal commitments keep my schedule pretty tight and it's amazing how much time I can find in the "cracks" to use this app. It's really been helpful in progressing towards my end goal.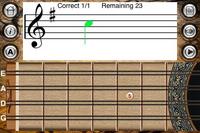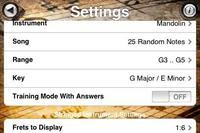 Lastly, the "analog" tools. In addition to my notation method, I picked up a couple of Mel Bay's Student Violinist books. Specifically the Bach and Beethoven books. They offer melodies that are familiar to the ear and easy to find on the fretboard. Most of the tunes in these books are in the keys of G, D and A. The trick is to match up the pieces with where you are at in your notation method.
Charlie Jones
Product Purchase Information:
Practica
iReadMusic

Further:
Debora Chen; Standard Notation for the Tab-Addicted Mandolinist
January Fitness
Practice Regime; A Balanced Diet
iReal Book
Fretboard iPhone App
Posted by Ted at February 25, 2010 3:46 PM