Debora Chen
Standard Notation for the Tab-Addicted Mandolinist
Publisher: String Thing Music
Target Examples and Exercises for the traditional mandolinist breaking into untabbed territory.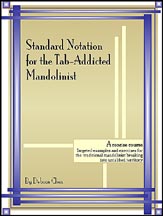 Seems adults struggle harder than children to learn new things. An older "student" (we're all still students, by the way) who never had the benefit of learning standard notation is at best too embarrassed to attempt reading skills, and at worst, intimidated enough to scoff at the need for such abilities. We've said it before, if you want to open yourself up to the wide world of Fakebook Standards, let alone the vast treasures of Western European music literature, reading standard notation is a must.
So you've been a slave to tablature and you think you'd like to dive into reading Ellington tunes, or Jerome and Kern, but this reading deficiency is holding you up? You sat back in amazement as your fellow mandolinists whipped out a Bach Prelude, but didn't have a clue where to start? Debora Chen, San Franciso Bay Area mandolin/violin teacher and studio artist has crafted a book just for you. She has brilliantly tapped (not tabbed) into familiar ground and given you a systematic "bridge" into notation by pointing out the graphical similarities of TAB and staff, working tunes you know (Ode to Joy, Simple Gifts, Jesu Joy of Man's Desiring) and some easy-to-grab reels and jigs into your fingers--and from the printed page!
Notation is a map. It's not a journey unto itself, it's basic directions toward a larger destination. When you know the landmarks, you can trek the side trips in between. There will be plenty of time for more sophisticated nuance, but this puts the gas in your car and your tires onto the roadways.
The Old School mnemonics of "Every Good Boy Does Fine" are moot in this concise course. You learn space and position from ear and finger first. Catchy, recognizable tunes are experiential, four-dimensional are exponentially more effective in grasping basic notational elements of rhythm and pitch. It's a very comfortable beginning, and when Chen starts to show you the broad strokes, larger forms of AABB as in Fiddle tunes, it will start to all make sense.
Pattern recognition is started early in the course, laid out very logically. It's all putting optical labels on what you've already learned aurally.
Seven section overview:
Ch.1:Basics; time signature, notes & rests, spacings (internal pattern recognition), practice tips.
Chs. 2-5. D , A, E, G string reading, rhythms
Ch. 6. Stepwise motion, combining G & D string
Ch. 7. Putting it all together.
Do yourself a favor. Get to know your staff!
Purchase information: Standard Notation for the Tab-Addicted Mandolinist
From the website: "This book includes (and expands on) material Debora Chen has taught in her classes at Mandolin Symposium and Berkeley's venerable folk venue, Freight & Salvage. By practicing with this book just a few minutes a day, you can quickly break away from tab and into any fakebook you choose."
Website: Publisher: String Thing Music
---
More thoughts on reading notation: Sketching Music (Notation vs. Tablature)