« Planet Waves PW-CT-05 Practice Workstation | Main | Mandolin. Jazz vs. Bluegrass »

December 11, 2012 | Brian Oberlin; Solo Swing Christmas
Brian Oberlin:

Sleigh Ride MP3
We've been impressed with the 2011 solo Christmas album project of Oregon based performer, teacher and River of the West Mandolin Camp administrator, Brian Oberlin. Few are up to the challenge of vocal solo with mandolin accompaniment, and for any wanting to use the instrument in this way, Oberlin's recent CDs are an authoritative study of how to get it done. We asked him to tell us more: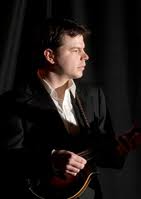 "My Christmas album is part of a double album I recorded in 2011. The first being 'Solo Swing' and the second being 'Solo Swing Christmas.' There are plenty of solo mandolin players out there but I wanted to add something different to the act by adding vocals and playing the mandolin with a "band" approach. Meaning, interspersed with the vocals, I like to add what the guitar, bass, and piano might play. Sometimes, I even think about playing a soli cadenza from a horn section. I can mostly get away with these ideas by adding color tones in the chord, different rhythms, plenty of passing tones in-between chords, and using double stops based on the melody or an improvised line.
Another trick I use in my solo act is to play short lines and/or arpeggios while I am singing that would emulate a bass player or accompanist doing fills. This technique is pretty tough because my voice tends to lean towards what I'm playing rather than what I'm supposed to be singing.
I have taken on the endeavor of a solo swing/vocal approach for the reasons listed above and because it is a huge challenge. Because it is swing, 90% of the stuff I'm playing is fresh and unique to the venue/day while the other 10% are rehearsed, chord progressions or lines that fit a particular song. It's the 90% that keeps me going and striving for more ideas on the fly.
I recorded the Christmas album because I love swing music and the melodies and changes for some of the Christmas music are fantastic. You can take a tune like "Let it Snow", "Silver Bells", or "Sleigh Ride", add a few substitutions and you've got yourself one hell of a swing tune."
Listen to more samples of Solo Swing Christmas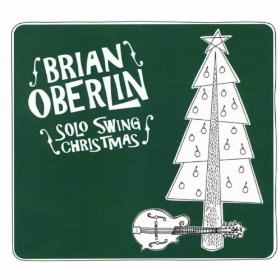 Purchase information: Brian Oberlin; Solo Swing Christmas
Artist Website
The River of the West Mandolin Camp will be June 6 - 9, 2013 and the instructors are Don Stiernberg, Carlo Aonzo, Radim Zenkl, and of course Brian Oberlin. Expect an official release all of the information for the camp in January.
Information about the 5th Annual River of the West Mandolin Camp

Posted by Ted at December 11, 2012 5:13 AM