« New music from Michael Lampert; Ephemeral | Main | The Acoustic Music Company »

April 7, 2012 | Remembering John McGann
We're saddened at this week's sudden loss of the man, the musician, the philosopher, published author, and mandolin pioneer, Berklee School of Music Professor John McGann. We had just wrapped up an upcoming MandolinSessions article on the improvisational process picking the brains of several of the world's leading mandolinists, including the words of the great Boston based multi-instrumentalist.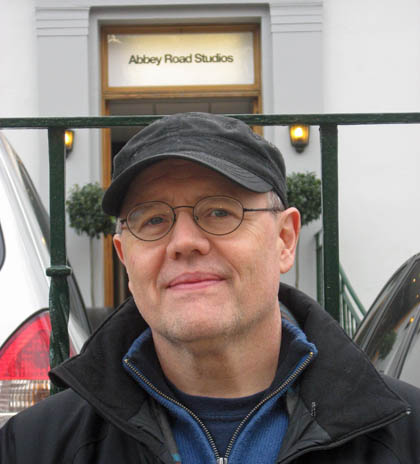 RIP John McGann 1959-2012
The above souvenir picture was one he shared with us during that conversation, from a recent trip across the pond, a testament to his long time admiration for the iconic Liverpool's lads. His Celtic talents are exposed on a high level with his acoustic wizardry with Brian Hebert on their session picker's tribute to the Beatles, "Any Time at All." Equally exemplary was his jazz chops on mandolin, guitar, and octave mandolin, and you can find several compelling examples on his YouTube channel. We're particularly fond of his strange, delightfully twisted bluegrass smorgasbord with the Wayfaring Strangers.
His recent thoughts on the creative process, "I believe that the left side of the brain, the 'information processor,' is used when studying chords, scales and modes. These all represent sounds to be cataloged. We can practice these things slowly, until our intuition, in the right side of the brain, can deal with them. When we solo in real time, the right side of the brain is more engaged, with the "inner ear" and emotions, and there is less 'conscious thought' involved. In my case, I need to know what the chord changes are, and where I am in the form, to comfortably improvise."

We'll miss John's incredible artistry, but most of all appreciated was his deep mentoring.
Read the Mandolin Cafe archive interview with him: 10 Questions for John McGann
Posted by Ted at April 7, 2012 5:13 AM