« Jason Anick Trio; Something | Main | Winter Delays »

December 28, 2010 | Chris Acquavella; cosmopolitan mandolin
This fall marked the introduction of a unique blend of classical, folk/ethnic music, and jazz mandolin in a CD entitled "Duo LaRe," from bowlback expert Chris Acquavella. Paired with guitar, and occasionally infused with percussion and cello, the San Diego based artist has fashioned his own unique signature sound, in his words, "combining jazz & classical with folk traditions from across the globe." He clarifies, "I'm not a 'jazzer' so it wouldn't be smart to identify myself as one. My musical partnership with jazz guitarist, Nate Jarrell is what pulls me in that direction. At the same time we wanted something ethnic and earthy sounding."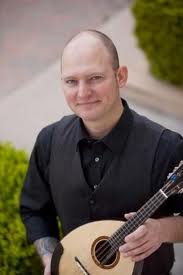 We discussed with him the difficulty of approaching the stereotypically pristine nature of classical mandolin technique with its characteristic "cleanliness" and submersing it into the underworld of jazz, known for it's soulful but gritty execution. "Duo LaRe isn't really about creating a standard jazz sound." We concur, but the collection of songs, some even original compositions is if nothing else, an incredible study in good mandolin technique.
This should be no surprise, as an alumnus of the UK's prestigious Trinity College of Music, graduating with honors, we would expect no less. An invitation to premier his new material in the October CMSA, the musician has sandwiched a full concert schedule midst his demanding teaching responsibilities.
We were flattered to hear he credits some of our closed pattern scale techniques from the GiJM book in his repertoire. That's a pretty high honor coming from one of the United States' most acclaimed mandolinists. He's also expressed an interest in obtaining a jazzbox mandolin; we'd love to see him hook up with a premier builder looking for some world class exposure.

We look forward to hearing more from this pioneering artist!
Purchase CD: Duo LaRue
Read Mandolin Cafe Interview 10 Questions For Christopher Acquavella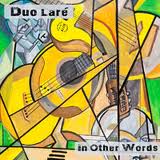 Artist website: Chris Acquavella.
Posted by Ted at December 28, 2010 5:34 AM