« Blackface Two-point from Brian Lock | Main | Mandolin Geometry Triology »

November 2, 2010 | Design a Weber
If you've ever had the itch to design your own dream mandolin, there's no better place to take a test drive of the process than at the Sound to Earth website. Born out of the original world renown Flatiron mandolin company in Montana in the 80's, the Weber Custom Shop is now over a decade old in delivering some of the best personalized instruments on the planet.
On the site's main page is a delicious menu option, "Design a Weber" that gives you a step by step exercise in exploring options for creating your own instrument to your specifications. It's a terrific opportunity to not only get pricing, but dream a little. Want to make changes? No problem, you can back in and out of features as you select the components of your own "build."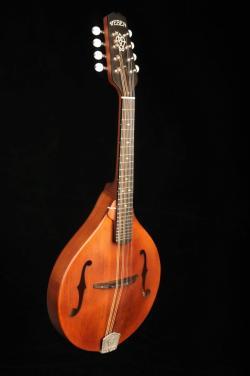 Start with an instrument in mind, mandolin, octave mando, guitar, etc. We decided to price a mandola and chose a Gallatin A from several popular models including A/F/flat body Bighorn, Bitterroot, Fern, etc. Pictures are right there in front of you, and you can always browse the site for more sonic details on these choices.
Next, although we decided on the standard peghead, you can look at pictures and prices of script, standard, inlay substitutions, or veneers. From there, determine fingerboard options such as fret, scale, or neck shape. Each of your selections are tallied up with a running price total, so you are kept abreast of how much your M.A.S. is going to impact your pocketbook.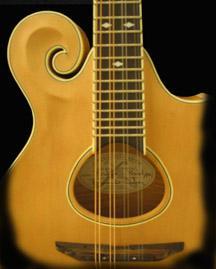 Uncover wood options: spruce, cedar, other, and alternate body features: heel, lefty, etc. You can follow up with variations in binding/purfling on the neck and body, and of course soundhole construction, Oval/F/D, bound/unbound. We've heard good feedback on the D hole Webers for jazz, so that's the direction we went on our Bridger Dola.
Of course, you can opt for their traditional colors, but there are also some attractive variations, and again examples for you to see on the screen. We were drooling over the turquoise green F5 on the front page, but chickened out with a color with better resale value. Finish options include satin, varnished, and you can also upgrade (or downgrade?) to a distressed look, or go middle ground with an attractive antiqued binding.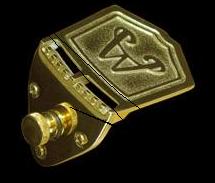 Over a dozen more miscellaneous customizations are at your fingertips: tailpiece, strap button, pickups, tussrod covers, bridges, harmonic supressors, pickguards, and armrests. Nothing like having pictures of everything in front of you and letting your imagination run wild.
At the end of the road, you have a form to fill out and submit with your contact information, email or phone. We were called by Cameron the next day, and since we'd already talked with Dennis Vance at The Mandolin Store in Wickenburg, AZ, he confirmed a current build time of a little under 4 months. Cameron told us if we didn't have a local dealer we were comfortable with, they could process our order directly out of Montana. (They ship regularly around the world.) Of course, Weber has a pretty good network of support with their dealers, including some of our favorite JazzMando sponsors, including Acoustic Vibes Music and Fiddler's Green.
The cyber journey was great for absorbing all the options. We heartily recommend going through the mental exercise, even if you aren't ready to buy today, or if you're already considering a smaller builder. This is a terrific service they have, and it's not only 24/7, it's free.
Build yours right now!
Visit website: Design a Weber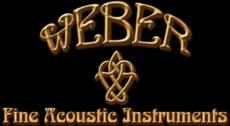 Posted by Ted at November 2, 2010 5:08 AM