« Going "Glueless." | Main | Will Patton and Ninine Garcia in the Studio »

September 13, 2010 | Prototype JazzMando "Psalm" Shirt
Music is about expressing what's most important to your heart. An artist is compelled to be true to his/her independent aesthetic and spiritual values, and we encourage all mandolin players to do just that. Express what truly matters to you through your music and your art.
We produced a test run of some prototype shirts on some higher grade designer shirts from Alternative Apparel and have come to the realization we can't produce these in mass quantities cost effectively. If we ever get around to selling them, we'll probably go with a standard grade cotton tee (Ultra, likely) but if you are interested in a compelling graphic, and something from the Book of Psalms is consistent with your personal philosophy, we have these in a boutique acid-wash navy blue available in large and extra large for purchase. We're just asking for our production costs and shipping, $19.95. (That includes domestic shipping. International would run another $8.00.)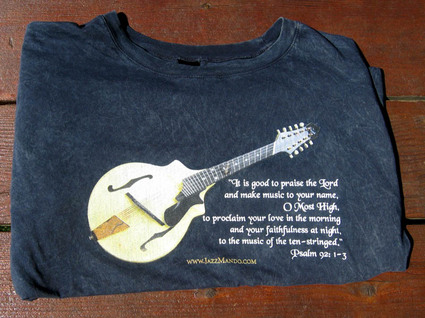 Contact us if you are interested in one of these: JazzMando Psalm Tee
Text: "It is good to praise the Lord and make music to your name, O Most High, to proclaim your love in the morning and your faithfulness at night, to the music of the ten-stringed." Psalm 92: 1-3
Let us know if you'd be in a future less expensive version with the same graphic. If we have enough interest, we will produce more with a target price around $12.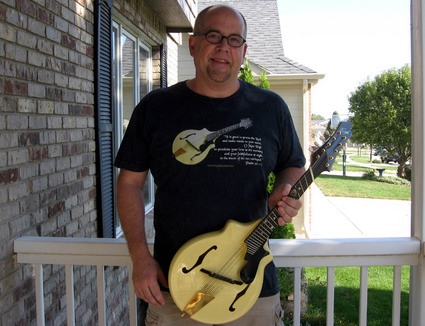 Posted by Ted at September 13, 2010 5:17 AM