« Evaluating strings | Main | New Paul Glasse Videos »

August 28, 2010 | "The notes seem to come from out of nowhere."
We've been shipping these literally all over the world, and the feedback remains good. It's great to hear from the readers many months into studying, because frankly, that's how long it takes to see the great benefits of our systematic approach. We appreciate you insights.

From Jim:
"I order a fair amount of books on the mando, but don't get around to study the techniques that much. Well, after reading your initial comments in which you 'demystify' jazz (mando), it opened me up to not being anxious about learning it, so I have decided to go through your book in a systematic manner to begin learning the concepts, and committing them to 'motor memory.' I have been playing the scales in your book (which I learned studying the violin for three years as a kid), but am now understanding the standard FFcP concepts. I know your book will help me to not have a fear of getting into jazz mando and not to be 'phobic' about playing down the neck, and the like. Jazz has always been intimidating to me to try to get a handle on, even though I have always wanted to have a good grasp on it, because jazz mando is so cool"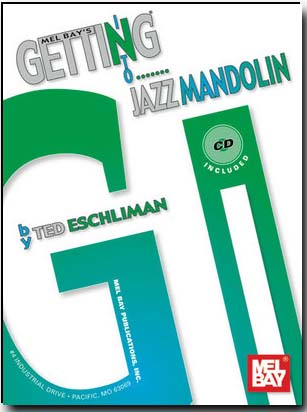 From the publisher:
Ted Eschliman GETTING INTO JAZZ MANDOLIN
Any mandolinist aspiring to a broader comprehension of music, including swing, blues, pop, choro, broadway, and even classical can expand his/her playing through a working knowledge of jazz fundamentals. This breakthrough approach in mandolin pedagogy takes four uncomplicated fretboard patterns (FFcP) and drills a physical familiarity into the player's fingers, softening the fear of upper frets and prepares for the harmonic alterations necessary for effective and intuitive playing of complex contemporary music. After a brief introduction into modes, you are eased into jamming with audio accompaniment (CD), and eventually an initiation into the most fundamental jazz chord progression of all, the 'ii V7 I' pattern. From the horizontal (melody) to the vertical (chords) and back, the results are a both instinctive and physical grasp of tonal centers and the improvisational fodder of effective performing. With an emphasis on pinky strength, finger control and sustain, the book's exercises also develop the player's concepts of tone and melody. Further supportive resources, including MP3 audio tracks, are available on the internet.
Get yours: Getting into Jazz Mandolin
For those of you who already have it, don't forget about the free additional online backup tracks: Webtracks
Posted by Ted at August 28, 2010 6:04 AM