« Rigel R-100 blackface mandolin | Main | "The notes seem to come from out of nowhere." »

August 26, 2010 | Evaluating strings
For some, the quest for the perfect string is a never-ending Quixotic pursuit, and the best set is perpetually the one that's on the other player's mandolin. For others, it's that ONE tried and true string brand, preference never to stray, never to experiment with. In perspective, other than the pick, it's probably the least expensive way to change the sound of your instrument.
We're probably in the latter, the camp of complacency. Once you find a string that ultimately matches your tone and feel preferences, you lose compulsion to change, until that day you run into defective product. We've known a few players that have given up on an entire line of strings, just because of one or two bad sets, and that's a shame. ALL manufacturers eventually run into some production problems; you should never completely abandon a brand because of a single incident of inappropriate string breakage or faulty core.
That said, it helps to know what can go wrong, and we explored that in last week's Tips and Tricks column. We went through loops, cores, age, and tensioning to unravel (pun intended) what could go wrong.
Take some time to read through this. You might find it useful.
Read article: Evaluating strings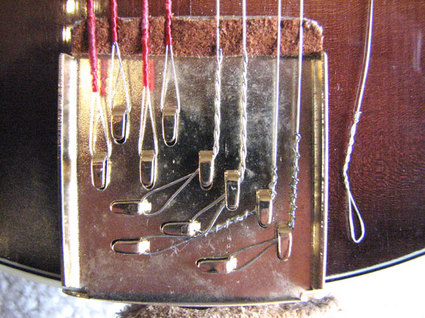 Posted by Ted at August 26, 2010 5:39 AM