« 10-string project, Part II | Main | In case you missed it: Don Stiernberg Interview »

March 23, 2010 | Clark at Wintergrass
Coupla Fs, coupla Two-points, an A, an Octave, and a departure flat top guitar, one of our favorite builders made quite the appearance at this year's Wintergrass festival in Bellevue, Washington. We stole a picture off of Austin Clark's Facebook photo library, and had to share this with our readers. Matter of fact, yet another staff researcher, Charlie Jones has recently acquired gorgeous two-point Clark for himself. It isn't an iconic Clark JM, but with an aftermarket upgrade of a K&K pick-up, it will be darned close, sans block inlay and other minor cosmetics.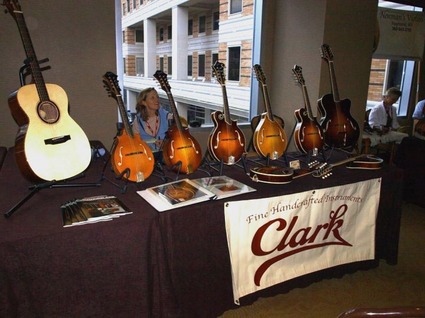 Clark Instruments at Wintergrass 2010
What can we say about Austin's craft? In a personal collection famous for an ever shifting "catch and release" inventory, the Clark JM stands the test of time here in the JazzMando Lab among many extraordinary instruments in longevity, and remains the Site Administrator's "go to" stage preference. We should also mention the master craftsman has restructured his prices, and is getting closer to what these fabulous instruments are worth, but they remain a terrific value and very much worth the wait.
They will only go up in value!
Read more:
Clark JM Review
Facebook Fan Page
Builder's Website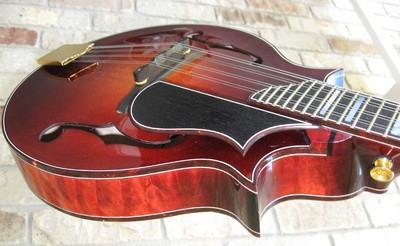 Posted by Ted at March 23, 2010 5:37 AM