« Nashville Business Journal: Gibson Guitar hitting a sour note | Main | Secrets of Stiernberg »

March 3, 2010 | First images: David Grisman/Eastman Lyon & Healy Mandola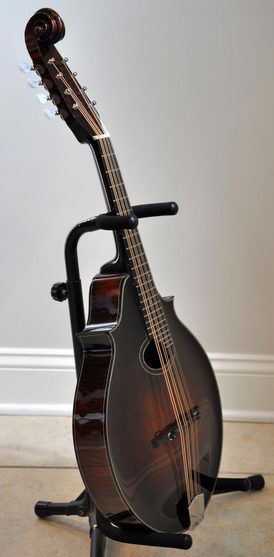 Our good friend, Scott Tichenor site author of the internationally acclaimed mandolin internet resource, Mandolin Cafe has had an exclusive opportunity for a sneak peak of Eastman Mandolin's latest cooperative project with David Grisman, number three, a Lyon & Healy mandola homage.
From Scott: "I was told this is a copy of David's original brown-faced Lyon & Healy Style mandola with a slimmer neck. The neck on the next prototype will be even a bit slimmer than this I was told, and the angle of the neck will be a bit more acute to enable a bit more bridge height, ie., a bit easier to play and have more bite is the goal in mind. The neck is quite a beast, I'll agree, but most vintage mandola necks are, and I applaud this minor change."
Great to see these classics brought back to life in current production, and no better company than Eastman Strings to see it to fruition. The next project we're even more excited about, for very personal reasons...
Dare we let the cat out of the bag?
Coming this summer: Eastman JM-1.
Let your imagination run wild.
See more pictures: Mandolin Cafe update

Posted by Ted at March 3, 2010 6:45 AM