Why have six strings when five will do?
We've been privy to a first-hand, up close encounter with the wicked cool transformation of a Gibson 6-string "Mandolin/Guitar" into a remarkable little 5-string mandolin, complete with jazz custom pickup. Ed Christian, honorary deputy JazzMando Staff Research Assistant and (full-time) English Professor out in Hamburg, Pennsylvania, tackled this boldly imaginative project with an admirable degree of success.


First a bit about the Gibson M6 Mandolin/Guitar: to call this instrument a massive marketing gaffe might be a tad melodramatic, but certainly, an instrument whose manufacturer suggested List Price in the $5 & $6K range, typically streeting in the low $1K now, certainly hasn't hit its target.
The concept of a mandolin body tuned like a high pitched guitar (all six strings) didn't exactly catch fire in the Nashville circuit; we're excited to see this transformed into something useful.
From the Gibson website: The Gibson M-6 features an A-style mandolin body with a short-scale guitar neck that makes every guitarist an instant multi-instrumentalist. The M-6 is tuned an octave higher than a standard guitar, so that the high E-string matches the highest open string on a mandolin. Guitarists can get the tone of a mandolin without having to adapt to a different tuning."
One word:
"Why???"
---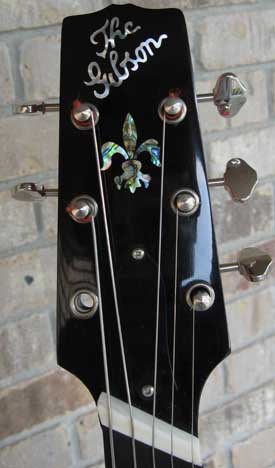 Professor Christian's courageous vision was to first change this wood and steel abomination from a 6- to a 5-string. In order to do that, first he had to address the tuning tension balance issue of floppy C versus taut E string. This is a perpetual challenge for the 5-string designer to pull off (pun intended), but one of the most effective solutions in our opinion is the Fanned-Fret system. Throwing all caution to the wind (and exploiting the instrument's extended fingerboard width), he removed the fretboard, calculating the math for appropriate tension and intonation and installed .080 fretwire, eventually settling in on a 14-1/2" scale on the E and 15-3/4 for the C. Note this really makes the instrument more of a mandola with an added E than a mandolin with a C, and frankly, the instrument is approached more effectively mentally when played that way. (Frame this as a short scale mandola with an extended upper register.)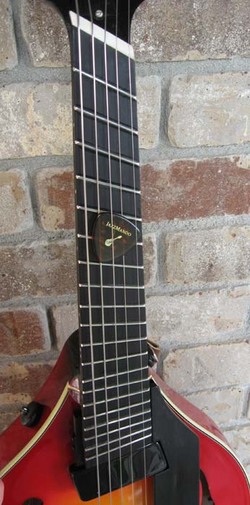 This also lends itself better for jazz; comping and chord melody always sounds better in this register any way. After achieving success here, his next step was to add a Benedetto sytle jazz pickup, settling on a terrific sounding Kent Armstrong designed for this kind of tonal character. Using a larger guitar size model worked for two reasons: 1.) the fretboard is already wider, and 2.) the angled position required more area.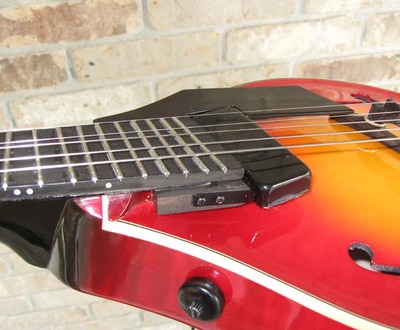 The floating pickup was jury rigged to some homemade ebony inserts, and emits some amazing warmth and response (very hot magnetically) for sustain and rich fundamental. That he used the JD13 Jazzdola Flatwounds for the wound doesn't hurt, either. We ran this through a Fender Blues Jr. tube amp, but Ed also recommended his more "acoustic-true" AER acoustic amp.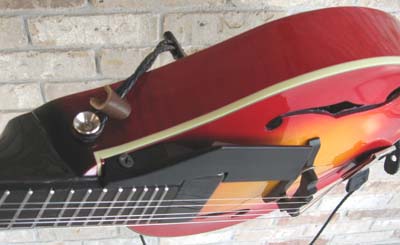 It would be safe to say the fanned-fret system quite effectively resolves the usual 5-string problem of having the C string be either too loose or too fat. Intonation concerns are pretty much moot; with the bridge at a slant like the frets (and nut), each string is completely in tune (equal temperament intonation, of course) throughout the fretboard. You really get the best of both worlds, an incredible compromise with a near-mandola scale on the bass side (16"), and less reach on the treble side (14") all in the same instrument.
Is the fanned-fret scale easier for a mandolin player to play than a jazz mandola with a complete 16" fretboard? This particular instrument would be an unfair comparison; probably yes with an overall narrower fingerboard, but again this was quite an extraordinary reach across E to C on the M6. A player with longer fingers might prefer this, however.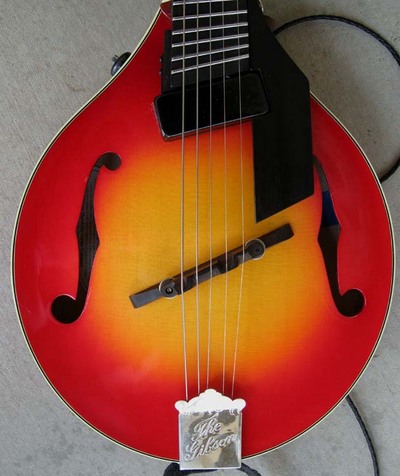 Really, the only problem we had was with the wider fretboard, but the fanned frets really help mitigate the reach. Consider the way the human hands are with a built in fan already; this makes huge sense. The fanned fretting by itself only takes MINUTES to adjust to. Anyone playing this for the first time will be very surprised just now instinctive the feel is; if anything, we recommend given the opportunity, you close your eyes and just play. Watching your fingers is unexpectedly counterintuitive visually.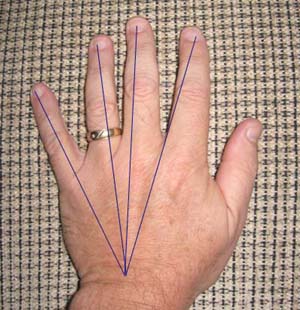 This was an impressive endeavor; hats off to Ed and his willingness to tackle this monumental project; armed with only a shade-tree mechanic's experience and some "measure twice, cut once" cunning, he's been able to make a true marketing misfit into a worthy contender for any aspiring jazz mandolinist. Other than an extra hole in the headstock, and some minor file mishaps on the fretboard edges, the luthiery is quite admirable.
---
We couldn't help but notice the case it came in. Fresh from the June Mandolin Symposium in Santa Cruz, he was able to create a valuable heirloom with signatures from some of today's most amazing front line musicians. See how many names you can identify: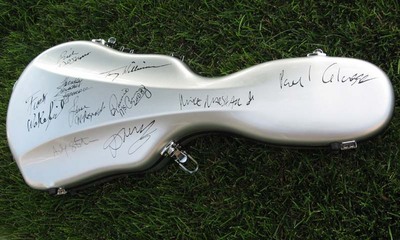 Nice work, Ed!