« Snap, crackling, and/or pop. Cold weather shipping. | Main | Top Six Tips & Tricks of 2014 »

December 25, 2014 | Chestnuts roasting on an open 5th.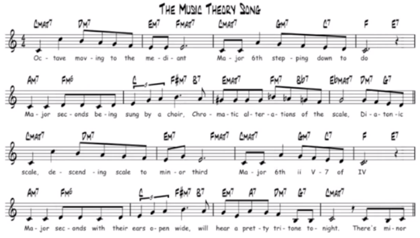 It's been posted before, but in honor of the day, we had to rerun this clever learning tool...
The catchy, clever reincarnation of a traditional Christmas favorite, "The Music Theory Song" is not only good for a few chuckles but an astounding insight into the nature of interval labels and some harmonic functions. Kudos to David Rakowski and Dave Swenson for this delight.
The Music Theory Song (Intervals Roasting)

Print PDF: The Music Theory Song
May all your supertonics be prolonged and bright.
Posted by Ted at December 25, 2014 1:20 PM