« Keying into FFcP | Main | Learn To Play In Every Key (Part Two). Baron Collins-Hill »

April 17, 2014 | Learn To Play In Every Key (Part One). Baron Collins-Hill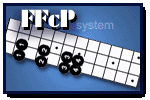 JazzMando friend and FFcP disciple Baron Collins-Hill is posting some marvelous introductory videos to help you grasp basic playing concepts. His latest is a series that outlines visually and in real time, the approach and the benefits of closed position studies, beginning with the 1st FFcP pattern based on the scale starting on the 1st finger. If you haven't started down this path or want help explaining the concept to another beginner, this is a great resource.
The series' first entry is an introduction into the basics and how to eventually move and apply it up the fretboard. Baron demonstrates how simple it is to move into playing in the more folk foreign flat keys. Also he gives helpful tips on how the FFcP forces optimal hand placement and finger spread.
Video Link: Learn To Play In Every Key (Part One)

Review: Principles of FFcP



In this system, there are only four ways to play a major scale: starting with the first finger, the second, the third and the fourth. That's it!


All 12 keys can be covered in only four different positions, simply by transposing up or down the fretboard and across strings.


4th Finger (Pinky) strength and coordination become part of daily development exercises.


Key Chord Tone relationships in improvising become tactile, visible, and intuitively real.


Position shifts to a second octave are easily bridged merely by starting the next octave with a different FFcP pattern.


Changes in tonal "micro-centers" by half steps easily transist either by moving the pattern by one fret, or using the next FFcP.


Further:
"The notes seem to come from out of nowhere."
Stuff you can get for free at JazzMando
Moving on up. And around.
Numbers.
FFcP Index
Posted by Ted at April 17, 2014 9:11 AM