« Last call Primetone Pick Special | Main | NS Micro Tuner PW-CT-12 success »

June 22, 2014 | Custom L-5-Style Mandola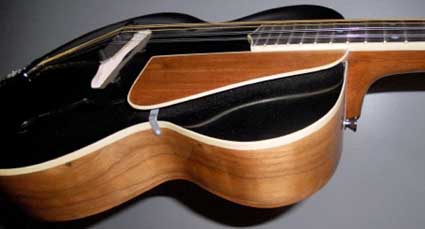 This custom mandola was finished in 2008 by California player and hobbyist builder Ed Hume. It was recently listed, and too late for us to pick up, already has a sale pending. It was based on our favorite, the iconic L-5 arch top guitar.
Ed tells us interest in the instrument has been good, and he's considering producing more.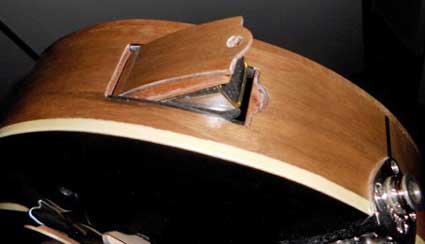 We certainly hope so!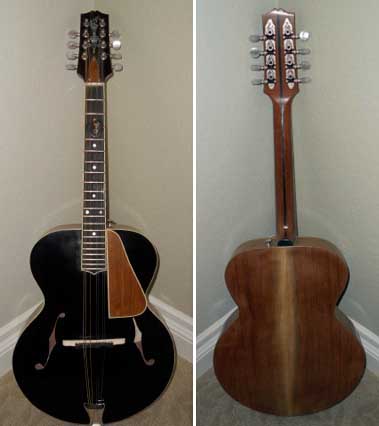 Specifications:
*Black sitka spruce carved top, traditional bracing
*Legacy walnut back and sides - from a walnut slab that was originally part of master woodworker Sam Maloof's wood stocks. At one point it was used as a table top in the rustic style. Nice vertical grain, sapwood center.
*Top and fretboard bound with ivaroid binding
*Adjustable truss rod
*17-3/4" scale length - play it with same fingering as a mando but tuned CGDA - a fifth lower
*Allen tailpiece
*Mahogany three-piece neck with ebony center.
*Ebony headstock veneer with MOP torch inlay
*Grover tuners with pearloid buttons
*Ebony fretboard radiused to 12'
*Ebony adjustable bridge
*Bound walnut finger rest
*Artec internal mic pickup, strap-button jack. Hinged battery door in lower bout.
*Great deep mellow tone.
Mandolin Cafe Classified: Custom L-5-Style Mandola
Builder's blog page: MandoObsession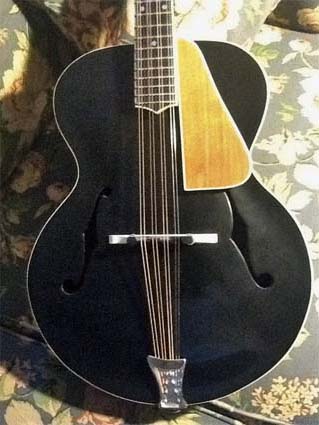 Posted by Ted at June 22, 2014 6:49 PM