« New Collings Tenor Guitar line | Main | Avoid the treacherous "Third Rail" playing mandolin »

June 12, 2014 | Three 10-strings. That's 30!
In April of 2010, we had the rare opportunity of three different 10-string instruments under the same roof. Each builder had a unique approach to them.
The first two regular mandolin scale, recently deceased Brazilian luthier JP Charles's archtop bandolim, with more of the characteristic Brazilian brilliance (tempered by our use of D'addario Chrome Flatwound strings), the second was the recently reviewed Gypsy's Music nylon string with its warmer, richly round tonal character.
Walt has since moved from Arizona to Maryland and has a new website.
The third was fresh off the bench of New England Luthier Pete Langdell of Rigel Instruments, this R-200 started its life off as an 8-string mandola, and with a new neck, bridge, tailpiece, tuners, K&K pickup, and the revolutionary fanned fret system, the instrument is now a 10-string. We're asked frequently about the adjustment in playing this system, but really, it only takes a few minutes to adjust. Since you have mandolin scale (14-1/2") on the E-strings and mandola scale (16") on the C-strings with a the inside strings graduated between, it isn't any different than the natural adjustment one might make playing the two different instruments in one setting. If you want access to the best in both ranges, you have to make the acclimation one way or the other.
Thirty strings...
A graphic of the Rigel 10-string is available on a shirt and several other accessories in our CafePress Logo Store.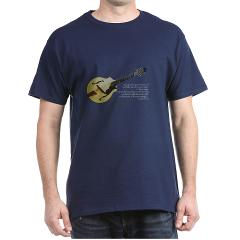 Posted by Ted at June 12, 2014 11:36 AM