« Better tone with a JazzMando V-pick | Main | Dorian/Minor in Reverse: New free PDF »

June 4, 2014 | Siminoff string tension report on Mandolin Cafe
Most mandolinists are oblivious to the tension demands of the string sets they settle into. A lot of attention is paid to gauge, light, medium, medium light, etc., but the real story is in the individual tension of stings on bridge and string balance. Roger Siminoff, one of the world's foremost authorities on string instrument repair and building science was at the heart of understanding and publishing how tension impacts tone and playability. His efforts to coordinate and document string manufacturer specs reads like a novel in a reprint of an intriguing article posted on the Mandolin Cafe.
We became aware of the importance of tension in developing (and personally using) flatwound string marketability. The gauging on flatwounds is often misleading as the string core and winding produce more downward pull the players realize. In other words lighter flatwounds can still lend the same tension as heavier roundwound. This article helps to understand why.
Siminoff writes, "In the early 1970s, I performed some tests to measure string tensions at the bridge of fixed-bridge instruments, and the associated lateral down-pressure loads on those instruments with movable bridges and tailpieces. What I found was that the relative tension of each string in a set of strings was critically important to the timbre; amplitude, sustain, clarity, and most importantly, the string-to-string balance."
Read article: String Tension: What It Means and How It Became Important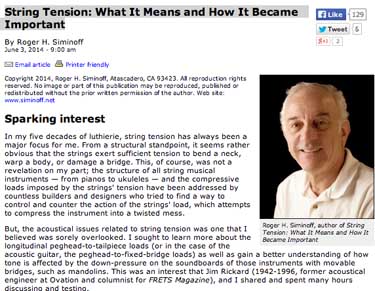 Posted by Ted at June 4, 2014 6:16 AM