« John Kinnard "Finegold" Mandolinetto | Main | Breaking trad. Bill Bussmann »

March 13, 2014 | Mandolin Cafe Ball Caps temporarily back in stock
We got to see the prototype of the new Mandolin Cafe ball caps last, and are happy to report they are officially back, but in a very limited quantity. Proprietor Scott Tichenor has been busy licking stamps since their arrival yesterday.
The logo stitching has improved, although we were happy with the old ones, too. The headstock graphic is cleaner from a distance. Available in black only.
Word of warning to our International friends. We already knew about the twofold increase in non-domestic US postal rates out of the country as of last year. It's crazy, but still cheaper than hopping in a plane to fetch one.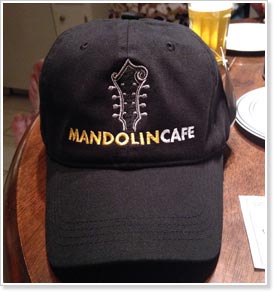 Purchase information: Mandolin Cafe Ball Caps
$13.95 plus shipping
Posted by Ted at March 13, 2014 10:46 AM