« Dazzling Mowry Pics | Main | John Kinnard "Finegold" Mandolinetto »

March 9, 2014 | New Planet Waves NS Capo Banjo/Mandolin Capo from D'Addario
A capo has never been a mainstay in the traditionalist mandolin camp. Somewhat a source of contention, the open strings player will vocally shun as a needless crutch, and the closed position player will brag about his index finger being the only capo he will ever need. This is close-minded, and as much as we advocate developing facility in closed position or FFcP fingering, there are undeniable benefits for having a good capo around.
If you've ever prepared an accompaniment for a vocalist and she announces the key is too low, it's nice to have some immediate versatility. Even if you're a master at transposing, sometimes you get a passage that exploits an open 5th resonance you just can't duplicate higher up the fretboard with the fingers.
That said, a mandolinist should never have to order a capo shipped in a brown paper wrapper.
We've used a Kyser capo before, and as good as it is, there is still a limited sweet spot getting the outside strings completely covered. This causes buzzing that can only be addressed with fidgeting. This can be especially annoying jockeying for the best angle or placement between frets in a live performance. With the recent release of the new Planet Waves NS Banjo/Mandolin Capo from D'Addario, we think problem solved.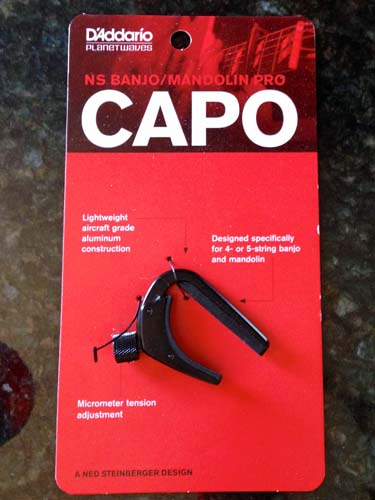 Though it doesn't have the quick release feature of the Kyser KGMB the ability to move is surprisingly rapid. The thick adjustment screw allows immediate, controlled tensioning, and the rubber grip profile grabs all eight strings fast and secure. It's the perfect combination of sleek and stable, staying well out of the playing path of the left hand.
View video demo PW-CP-11 Banjo/Mandolin Capo

From the D'Addario website: "Designed in association with Ned Steinberger for 4- or 5- string banjos and mandolin, is the NS Banjo/Mandolin Capo Pro. Planet Waves/D'Adadrio is also releasing the NS Ukulele Capo Pro, which was designed specifically for ukuleles. These new capos assure buzz-free, in-tune performance at any fret as they are equipped with a micrometer adjustment mechanism which allows the player to dial in the exact tension needed for clear ringing notes without excessive force in any position on the neck. This greatly reduces the need to retune the instrument during and after capo use. The sleek aircraft-grade, aluminum construction can withstand the toughest playing and touring schedule while adding negligible additional weight or obstruction to the instrument. Both NS Banjo/Mandolin Capo Pro and the NS Ukulele Capo Pro will retail for $26.99 and are shipping now."
Manufacturer Information: PW-CP-11 NS Capo Banjo/Mandolin Capo
These will likely street price less than $20 US.
Mandolin Cafe Press Release
Posted by Ted at March 9, 2014 3:55 PM