« Long Hollow Big Softy Mandolin Straps | Main | The Brazillionaires; Tarde de Chuva »

November 12, 2013 | Hey. Jude.
For those of you who sing, when you struggle with remembering lyrics, sometimes the best thing you can do is create a chart. Verse/Chorus/Bridge is often how mentally map a song, but there's nothing like getting it on paper and diagram the relationship within these components.
One of our favorites is this handy chart for a Beatles classic.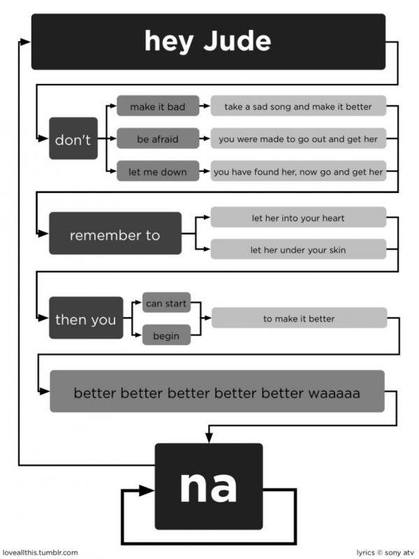 Some of our favorite fretted Beatles acoustic folk fun from John McGann & Brian Hebert: Any Time At All - a Session Picker's Tribute to the Beatles
Posted by Ted at November 12, 2013 5:27 AM